Benji was named by social media stars Max & Harvey after he was found abandoned during their Harrow Homing Centre tour
When singing duo Max & Harvey visited our Harrow Homing Centre in London in September, they got to meet and name an unexpected new arrival.
While the brothers were filming their tour of the centre, a ginger moggy was found dumped on the doorstep, with no sign of an owner.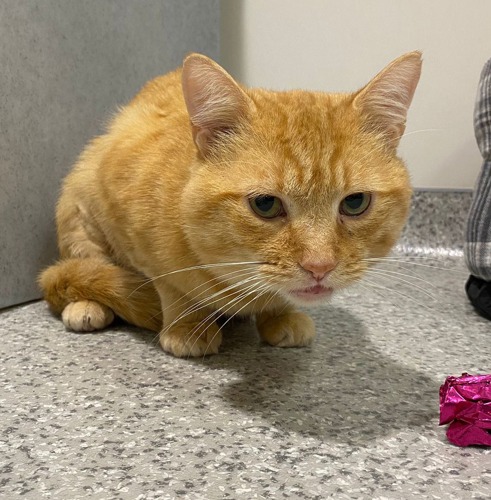 Benji needs a new home 
Although the centre already had a long waiting list of cats needing to come into their care, they couldn't leave the poor cat to fend for himself outside, and so settled him in to a cosy pen. Max & Harvey were then tasked with giving him a name.
"He looks absolutely lovely, we genuinely can't believe why anyone would leave this cat alone," said Harvey, "but apparently he needs a name so we are going to try and think of one. I wanted to name a cat Benji. I don't know why, I feel like he could be a Benji."
Max added: "I think Benji is a good name for a cat to be fair. In all honestly I was going to go for the cheap option and call him Garfield, so I think Benji is probably better."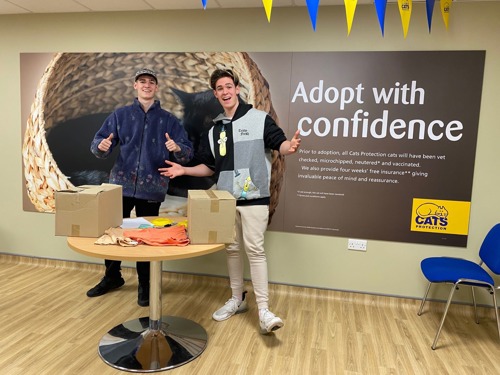 Max (left) and Harvey (right) brought their old t-shirts to the centre to turn into cat beds
During their chat with Nicola Murray, Deputy Manager of Harrow Homing Centre, she explained: "It's really unfortunate that Benji has been left on our doorstep. We don't know what circumstances he's coming from.
"Obviously they have brought him somewhere that can give him help and find him a new home to go to, but we do work to a waiting list because there are lots of cats that need a rescue space right now.
"Our list is so long that unfortunately we've had to temporarily close it. We've got over 70 cats waiting to come into the Harrow Centre at the moment and we only have 20 pens.
"We were really fortunate that we had a free pen space for Benji but this isn't usually the case. We are, 99% of the time, full here and although we can take Benji today, it does mean that another cat on our waiting list is going to have to wait longer for a space now.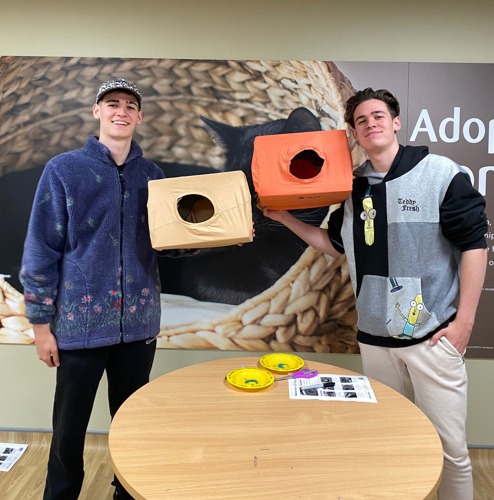 Max & Harvey with their cosy cardboard cat beds
"So it's better to make contact and then we can get all the information we need to add that cat to our waiting list and book in a space for them to come into care."
After having no luck tracking down Benji's owner, the centre team then got him checked out by a vet, who found that he had some dental issues and was positive for feline immunodeficiency virus (FIV), a condition that weakens his immune system and means he will need to find an indoor-only home.
Having monitored him in his pen, the team then noticed that Benji appeared a bit stressed, possibly due to the other cats at the centre, the limited space in his pen or visitors coming and going to see the cats, so they decided to transfer him to a quieter foster home.
"He's doing much better now," said Nicola. "We've got him in a foster home now and he's starting to come out of his shell, enjoying some affection and playing. He clearly wasn't a fan of centre life! The fosterer he's with is amazing. She loves a challenge and takes on every 'difficult' cat we offer her."
After recovering from his dental operation, Benji is now ready to find an indoor-only home with experienced owners. If you would like to adopt Benji, contact the Harrow Homing Centre to find out how.
During Max & Harvey's visit to the centre, Nicola told them about our current appeal for cat fosterers: "Right now we understand that a lot of people aren't in the position to adopt a cat but there are other ways people can help us.
"It's really easy to foster for us at Cats Protection. It's really flexible, we pay for everything, organising the cat's veterinary care, paying for all their treatment, the food and all the equipment that you need.
"We just ask that you have a safe space to keep the cat while we look for a permanent home. So it's a great opportunity for those people who maybe can't take a cat on full time, but want to do something to help us."
On hearing this, Max & Harvey then got onto the phone to their mum to try to convince her to become a fosterer... watch this space to see if their powers of purrsuation worked!
To find out how you can help us offer somewhere that feels like home to cats and kittens this winter, visit www.cats.org.uk/feels-like-home