The stories of Portia, Jinky, Bella and Sophie who have found loving new homes thanks to our Cat Guardians service.
Remember a Charity Week highlights how important leaving a gift in your will to charities such as Cats Protection really is. These generous gifts go such a long way in funding our work helping cats and kittens. In fact almost half of our essential work is funded by gifts in wills.   
Gifts in wills also help to fund schemes such as Cat Guardians, a free service that ensures cats are brought into a Cats Protection branch or centre in the event of their owner's death. Here they will receive the best possible care until they are rehomed to a new, loving owner as quickly as possible. 
Meet some of the cats who have been helped by the Cat Guardians service…
Portia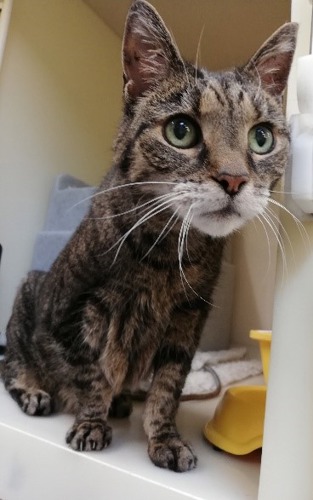 Sweet old lady Portia was very settled in her previous home of 17 years, where she had been devotedly cared for since kittenhood. Her owner had the forethought to register her with Cat Guardians to ensure that Portia would be looked after should the worst happen.

Sadly this day did come and Portia's owner passed away. When Portia arrived into our Downham Market Adoption Centre, Manager Lindsay Tempest said: "Portia is such a lovely girl and was in such wonderful condition when she came to us, it is clear she came from a home where she was dotingly cared for. She settled in very quickly, was confident and very gentle and I didn't think it would be too long before she found a new home."
As Lindsay predicted, Portia was soon successfully rehomed to the Quince family. They said: "Within five minutes of bringing Portia home she had nestled down on the sofa. We absolutely love our Great Aunt Portia and she is so at home here, she loves receiving a fuss, her food and gives us a priceless greeting after a day at work."
Portia's late owner also remembered Cats Protection in her will when she registered to Cat Guardians; a generous thank you for looking after Portia and a kind gift to help fund our future work.
Jinky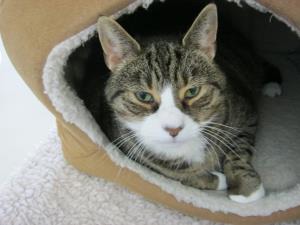 When Jinky's owner sadly passed away he was brought in to our Glasgow Branch. He was very shy when he first arrived, and a little on the larger side! The team promptly put him on a diet to help him get down to a healthier size. Centre Receptionist Lynne said: "Jinky was quite shy when he first arrived, but he came out of his shell after a few days. He is quite a big boy and has made headlines locally due to his size."
Thanks to the dedicated centre team, Jinky has gone from 10.9kg to a healthier 9.5kg, with a little way to go to his target weight of 8kg. He'll continue his weight-loss journey in his cosy new home, as he has now been adopted by caring new owners. 
Bella and Sophie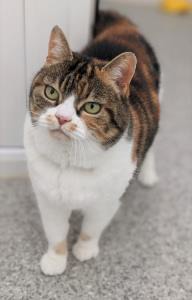 Our Bredhurst Adoption Centre in Kent has been looking after two cats who were brought in under the Cat Guardians service. Deputy Manager Stacey said: "Bella is a delightful little lady and is ever so affectionate. She has been adopted by a gentleman who has been in search of a companion since he sadly lost his wife. We know she will be very loved and happy in her new home.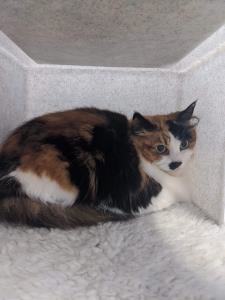 "Sophie is very nervous bless her. We are continuing to slowly coax her out of her shell, but not pressuring her as it's such a big change. We hope with time and patience she will gain our trust and once she has had her dental surgery we can begin to find her a new home where she can have plenty of tender love and care."  
Sophie has now had all her dental surgery and found a new home where she can grow in confidence. 
What is Cat Guardians?
When you register with Cat Guardians, we provide a certificate and notification tools in the registration pack, which you can store along with your will and other personal documents. We also ask for as much information about your cat as possible, including their personality, likes and dislikes, so that we can take the best care of them and find them the perfect home that matches their needs. 
When you pass away, we are made aware by the next of kin. We then arrange for your cat to be taken in by one of our local branches or centres, where our dedicated teams will look after them and find them a new home as quickly as possible. 
To find out more about our Cat Guardians service and how to register, visit https://www.cats.org.uk/what-we-do/catguardians
How do I leave a gift to Cats Protection in my will?
Leaving a gift in you will, big or small, can help cats like Portia, Jinky, Bella and Sophie have a brighter future. Gifts in wills are used to help provide cats with a safe, loving environment where all their health needs will be met and they will be supplied with endless amounts of affection from our amazing teams before they go onto find a forever home.
If you would like to find out more about leaving a gift to Cats Protection and our free will offer, please visit https://www.cats.org.uk/support-us/giftsinwills email giftinwills@cats.org.uk or call us on 01825 741 271.