Legacies that help us help cats far into the future.
Cats Protection was formed by a group of cat lovers in 1927 and since the beginning, gifts in wills have played a vital role in ensuring that we have been there to care for as many cats and kittens as possible. Below are just some of the examples of the legacies that have enabled us to carry out our work for cats over the years.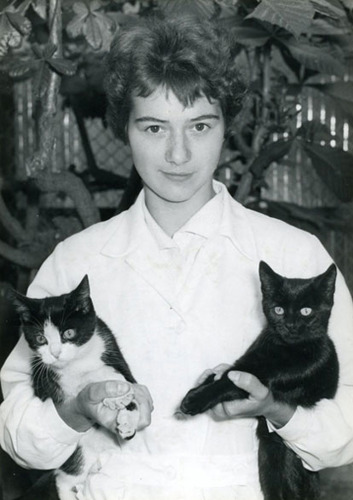 A volunteer with two of the cats in care
1935 was an important year for Cats Protection as a gift left in the will of a member of the Slough Branch meant that we were able to open our first headquarters in the town. This building acted as a temporary shelter for unwanted and stray cats while they waited to find their new homes, as well as a base for the hard-working volunteers.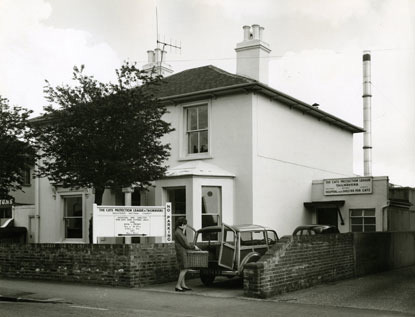 The Slough headquarters, left to Cats Protection in the will of a supporter
In 1950 another kind supporter left a legacy to help us meet our aim of establishing shelters to provide a temporary refuge for cats in need. A property in Haslemere was purchased using the money from this gift and it was converted into a much-needed shelter to provide a temporary home for neglected cats.
Haslemere is still home to one of our adoption centres to this day, having gone through various refurbishments over the years to ensure that the facilities are up to scratch for the feline residents!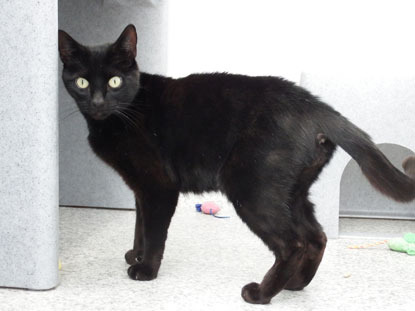 Can you give four-year-old Freddie a home?
Four-year-old Freddie is just one current resident at our Haslemere Adoption Centre. He came into Cats Protection's care as another cat in his home took a dislike to him and picked on him. Freddie is an extremely loving and friendly cat who likes to snuggle up on the sofa and loves attention. He's previously lived with children and will be a lovely family cat, but needs to be the only cat in the household.
To find out more about Freddie, contact our Haslemere Adoption Centre by calling 01428 604 297 or visit their website at: www.cats.org.uk/haslemere
As well as enabling us to convert and build new adoption centres, gifts in wills have been vital in ensuring that our branches can continue to raise enough funds to care for the many unwanted cats and kittens in their area. The Banstead Shop, which is run by the Epsom, Ewell & District Branch of Cats Protection, is just one example of the many shops our branches have been able to open thanks to gifts in wills.
In 2014, Pat Hogan, a volunteer of 24 years at the Cats Protection Epsom, Ewell & District Branch, sadly passed away, leaving a generous gift to the charity in her will. Pat joined the branch in 1988 and spent many years fundraising at events, recruiting volunteers and members, and giving talks to women's groups about cats and the work that Cats Protection does.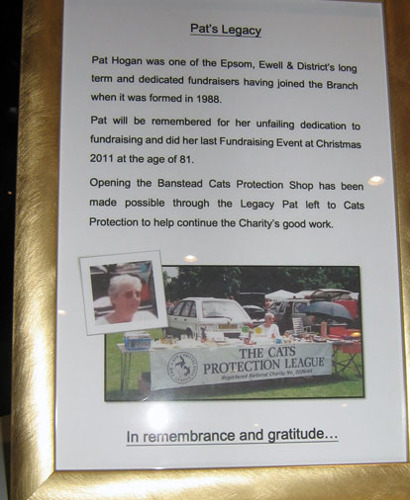 Pat has passed on her legacy to future generations of cats
Having shown so much dedication to help raise money and care for the many cats and kittens that the branch had taken in over the years, they felt that opening a shop with some of the money she had left in her will would be the perfect tribute.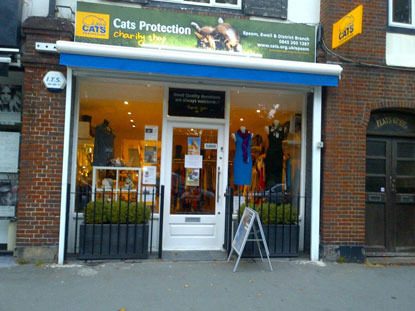 The Banstead Shop will raise much-needed funds to help the branch care for cats
We've come a long way since 1927; we now have 32 adoption centres, over 250 volunteer-run branches and nearly 100 shops.
Gifts in wills fund over half of everything we do – so without these generous gifts, we would only be half the charity we are today, meaning we would only be able to help half of the cats we currently do.
By leaving a gift in your will, you can help us ensure that future generations of cats and kittens will be able to receive the vital care they need until we can find them new homes. To find out more about how you can pass your legacy on to future generations of cats, please visit https://www.cats.org.uk/support-us/giftsinwills