Sarah Muir is raising money for cats after her own moggies helped her through cancer treatment in lockdown
Sarah Muir is keen to put a difficult year behind her having undergone chemotherapy for an aggressive type of breast cancer in the midst of lockdown.
She completed her treatment in April 2020 and throughout it all, her cats were by her side.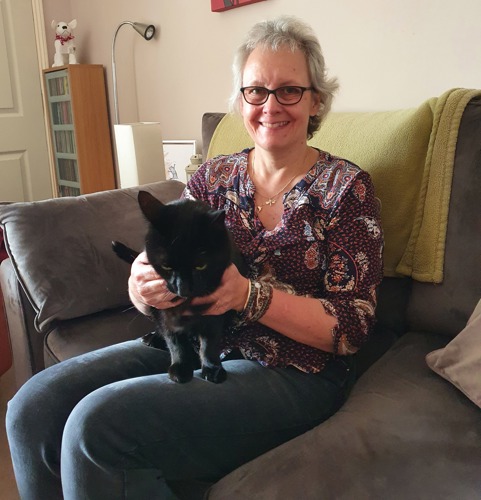 Sarah with one of her 'furry nurses' 
"The cats were hugely important to me throughout treatment," said Sarah. "When even a walk to the corner is exhausting having furry friends who encourage you to rest is so important. I spent many days on the sofa with my furry nurses looking after me.
"There were some really awful days during treatment when I wondered if I could go on, on those days when I couldn't deal with people the cats were my companions and strength."
Once she was well enough, Sarah was eager to get back to her role as volunteer coordinator of our East Northumberland Branch, and also wanted to do something to raise funds for the cats in their care.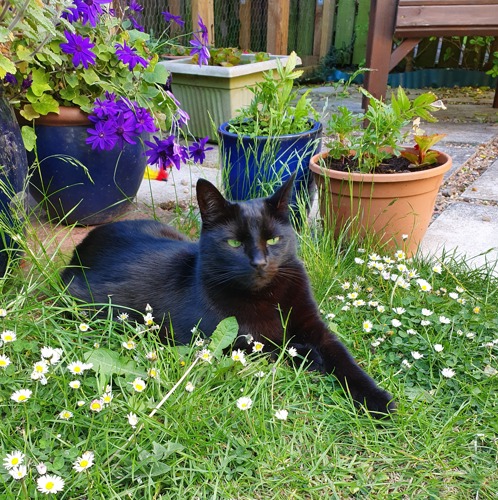 One of Sarah's cats in the garden
Sarah added: "Getting back to Cats Protection was a dream for me during treatment and now I'm back I am loving it."
The branch works closely with the nearby Tyneside Adoption Centre and so Sarah has signed up for their daring firewalk challenge, which will take place on 30 October.
Participants will learn to overcome their fears and get sponsored to walk barefoot across burning hot coals, raising funds for unwanted cats and kittens.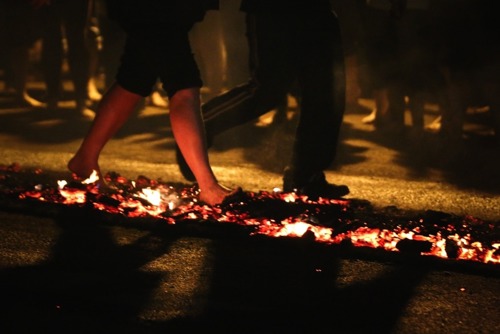 The event is outdoors and will be fully compliant with COVID-19 regulations, with instructor Karen Sterling from BLAZE Firewalking having safely guided people across the fire pit for over three decades.
The money raised from the event will help cats like Banksy and Binksy, who were destined to live the tough life of a feral before being rescued and brought to our Tyneside Adoption Centre for safety.
The kittens were caught along with other cats living as part of feral colony, and were young enough to be able to undergo socialisation to enable them to be homed as loving pets. The adult cats were neutered to prevent more feral kittens being born, before being returned to the colony, where they will be fed and monitored.
Tyneside Adoption Centre Manager Emzi Frater said: "It will be heating up here at Tyneside in October with our first ever firewalk.
"We've always said that we have some amazing supporters and they'll certainly be showing how far they will go to support cats – by walking over hot coals for them! With this being our first time firewalking we're hoping for support within the centre, our branches, our long-time supporters and the local community to all get involved.
"Our adoption centre aims to help 500 cats and kittens every year and the funds raised will help us towards that goal. This year in particular we're seeing the impact of so many accidental kitten litters through lack of neutering so your support is needed now more than ever."
Anyone interested in taking part in the firewalk challenge can pay a £30 fee and pledge to raise £120 in sponsorship, or pay £65 without the commitment of fundraising.
There are also lots more adrenaline challenges taking place across the UK, all to raise money for cats in need.