Dorothy Hyman and Cherry Lorberg, both in their 70s, will wing-walk at speeds of 110mph to raise money for needy cats in Dorset
73-year-old volunteer Dorothy Hyman from our Weymouth Branch and 74-year-old volunteer Cherry Lorberg from our Bournemouth Branch will both be strapped to the wings of a Boeing Stearman biplane for an incredible fundraising challenge.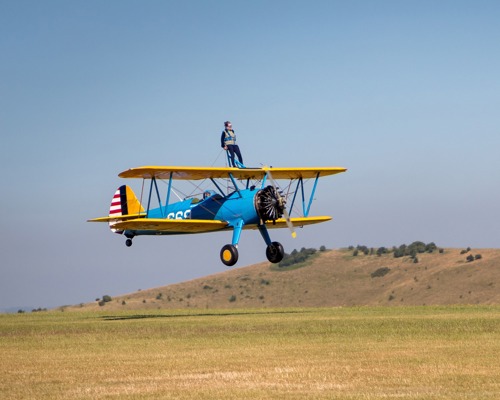 Dorothy completing her wing-walk in 2018. Credit: Donna White Photography
They will be held in place on the rig of the aeroplane, which was built in 1942 and initially used for pilot training during World War II, by a five-point harness and back-up safety pin. They will then reach between 100ft (30 meters) and 700ft (213 meters) when they take to the skies over Compton Abbas Airfield in Wiltshire on 29 August 2021.
No strangers to adrenaline, Cherry did a skydive for Cats Protection in 2016 with the Red Devils and Dorothy did a wing-walk for her 70th birthday in 2018.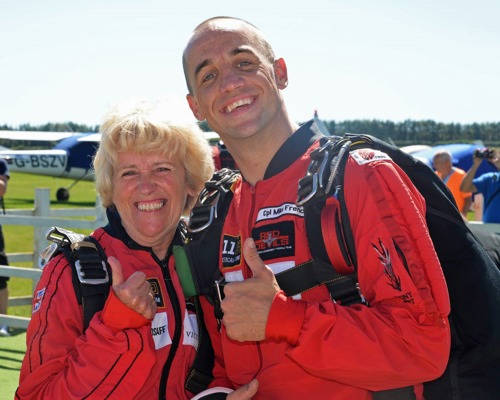 Cherry with her skydiving instructor 
"At 74 I still like the thrill and adrenaline rush of doing daft things!" said Cherry. "My partner Ian did a wing-walk last year in between lockdowns and I'd already had the idea of doing one after speaking to Dorothy a little time ago. Ian enjoyed it just as much as we both enjoyed our skydives and wanted to go straight back up and do it again. So, I thought why not? And now, here we are! 
"I have a bit more trepidation than for the skydive but at the end of the day lockdown prevented us from doing any face-to-face fundraising and we do need the funds to continue providing for the welfare of the many cats and kittens locally that need our help."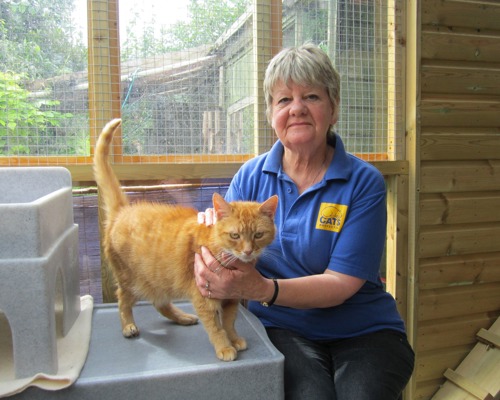 Dorothy with her cat Victor
Dorothy added: "Like Cherry I enjoy a challenge in life, age being no barrier, and if I can help benefit cats it's all worthwhile. When the opportunity arose to do the wing-walk, I didn't hesitate to accept. After what has been a very difficult year for all charities, I hope I can get lots of sponsorship and raise as much money as possible for Cats Protection to continue to help needy cats."
Raising money for cats like Dorcus
All of the funds raised from Dorothy and Cherry's challenge will go towards their respective volunteer-run branches which help cats like Dorcas.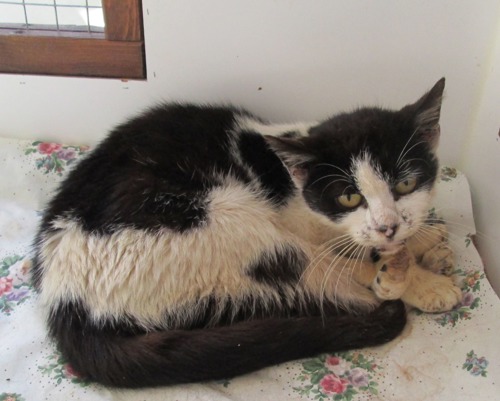 Believed to be around 10 years old, Dorcus was spotted lying wearily in the sun at a small industrial estate in Dorchester. A kind warehouse manager working on the estate realised she looked unwell and contacted the volunteers at our Weymouth Branch, who were able to humanely trap her the following morning.
Dorcas was extremely dirty when she arrived in care and weighed half the expected weight for a cat her size at only 1.9kg. She was weak, infested with fleas and lice as well as struggling to eat owing to missing or decaying teeth.
Dorcas has now received the urgent veterinary care she needed, including dental surgery, anti-parasite treatment, blood tests and treatment to help her fight highly infectious feline calicivirus, which poses no threat to humans but can be extremely dangerous to cats as weak as Dorcas.
Cats Protection's Challenge Events Officer, Gina Rogers, said: "Dorothy and Cherry are such an inspiration, they must both have nerves of steel! Both ladies are outstanding volunteers who give their time and hearts freely to help cats in their local areas, going above and beyond to ensure no cat in need is left behind. I can't wait to see them soaring through the skies as they climb to those breath-taking heights in the open air."
The daring duo are hoping to raise £2,300 collectively. To sponsor Cherry or Dorothy visit their JustGiving pages.
If you would like to take on a sponsored event for Cats Protection visit www.cats.org.uk/challenge to find out about pre-existing challenges or get in touch with Gina in the Events team to set up your own on 01825 741 960 or events@cats.org.uk