Have you got what it takes to tackle our Four Peaks Challenge?
You've heard of the Three Peaks Challenge, now get ready for the Four Peaks Challenge!
Join our team of Cat Champions and climb the highest peaks in England, Scotland, Wales and Northern Ireland on this adventure of a lifetime.
With a total ascent of 4,243 metres, take on the mighty Scafell Pike, Ben Nevis, Snowdon and Slieve Donard this year and raise much-need funds for Cats Protection.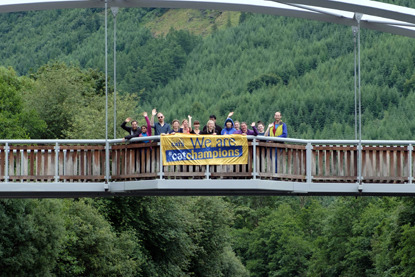 The challenge begins in the beautiful Lake District with our Scafell Pike trek on 20 March, then reconvening in Wales on 15 May to tackle the magnificent mount Snowdon.
On 17 July, you'll climb the UK's tallest peak, the giant Ben Nevis, before journeying to Northern Ireland in October to finish the challenge with Slieve Donard.
All four treks are led by an experienced guide so you are free to concentrate on the climb, enjoy the stunning scenery, or think about all the cats you are helping by taking part!
For each peak you conquer, you'll receive a collectable medal and once you've accomplished all four mountains your Four Peaks Challenge medal display will be complete.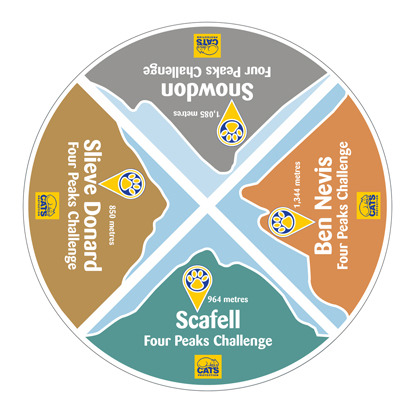 Sign up to the four guided walks for just £60 and pledge to raise £600 to help us get unwanted cats and kittens back on their paws.
Scafell Pike – Friday 20 March 2020 
Located in the Lake District National Park, Scafell Pike is England's highest peak and summits at 964 metres above sea level. The ascent path climbs the 900 meters to the summit and covers a distance of 4.5 km (9 km total distance) while the descent follows the same route. Find out more at  www.cats.org.uk/scafell
Snowdon – Friday 15 May 2020 
The wild and wonderful Snowdon summits at 1,085 metres above sea level. The route is challenging, there are extremely steep areas and the mountain is very exposed at the top but it has an easier path to descend. The hike takes between 6 and 7 hours in total. Find out more at www.cats.org.uk/snowdon
Ben Nevis – Friday 17 July 2020
Scotland's iconic mountain is also the UK's highest peak and summits at 1,344 metres above sea level. The trek takes 8 to 10 hours and includes some very low level scrambling on the ascent, with larger uneven rocks and steps for the majority of the climb. Find out more at www.cats.org.uk/bennevis
Slieve Donard – Friday 16 October 2020
Overlooking the Irish Sea, Slieve Donard is Northern Ireland's tallest mountain and summits at 850 metres above sea level. The hike is a 6-mile round trip but because it starts at sea level, it is a climb the whole way and will take between 7.5 and 8.5 hours to complete. Find out more at www.cats.org.uk/slievedonard
All four treks will also be available in 2021 and the dates will be confirmed later this year.
Find out more or sign up to the Four Peaks Challenge now at www.cats.org.uk/4peakschallenge or contact the Events team at events@cats.org.uk for further details.