A big thank you to all supporters who donated to help our Cherwell Branch after a break-in before Christmas.
Just before Christmas, the volunteers at Cats Protection's Cherwell Branch were heartbroken to discover that their lock up had been broken into, with thieves stealing over £300 worth of cat food.
The food was intended for the many unwanted cats and kittens in their care over the festive season, waiting patiently for homes in Banbury, Bicester and Brackley in Oxfordshire.
However, after posting about the robbery on Facebook and Twitter, the volunteers received an incredible response from the public, with £300 and 181 food parcels donated so far.
"Through Facebook and Twitter we have been contacted by hundreds of people, some as far away as America and Canada," said Pat Murdoch, Co-ordinator of the Cherwell Branch.
Their appeal for help was boosted by some high-profile supporters on Twitter, including Ollie (@myleftfang), a cat owned by comedian Ricky Gervais, and Gladstone (@Treasurymog), the black cat who lives at the UK government's Treasury office.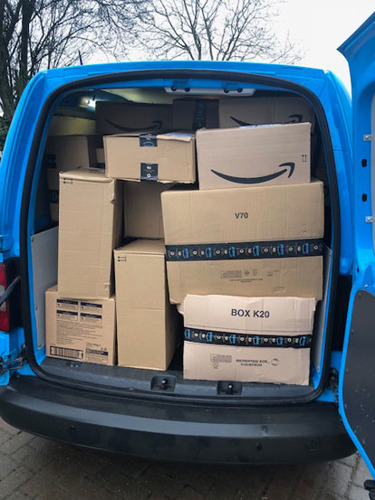 Cherwell Cats Protection received van-loads of donations via their Amazon wish list
Food donations came from as far away as Germany and the local Oxfordshire Animal Sanctuary also sent some parcels for the moggies. Any donations the branch did not need were donated to the local vets for the cats in their care.
"It has been overwhelming how kind so many people have been and it is in such a contrast to the despicable people who stole the food from us," said Pat.
"We have tried to thank everyone individually, but on behalf of Cherwell Branch I would like to say a very big thank you to all those very kind people and a special thank you from all the cats in our care who still had their Christmas dinner."
If you would like to donate some much-needed food or funds for the cats and kittens being cared for by the Cherwell Cats Protection, please visit their website or take a look at their Amazon wish list.