A happy new home for stray tabby cat Toby.
Three years ago, tabby Toby was an unloved, injured stray forced to scavenge for scraps just to survive.
One day, he appeared in the garden of Dawn Bayliss, who lives near Polbathic, Cornwall.
"We saw him limping very badly down the drive," says Dawn. "The children were beside themselves because he was obviously in pain. His ear was torn and very bloodied."

Dawn's family left out food for their unexpected feline guest, but couldn't get anywhere near him.
So Dawn turned to Cats Protection's Torpoint & Rame Peninsula Branch for help. Before long, with advice from Branch Co-ordinator Margaret Connolly, the family had managed to catch Toby in a humane trap.
The tabby-and-white cat was taken to the vet for treatment for his ear and paw. The vet told Dawn that Toby's paw had been injured in the past and had rehealed in an awkward position – Toby would need ongoing treatment. Toby was also neutered and given the injections he needed.
"I can't say enough about how wonderful and supportive the branch was," says Dawn. "People talk about going the extra mile…Margaret went 20 miles extra to help this cat."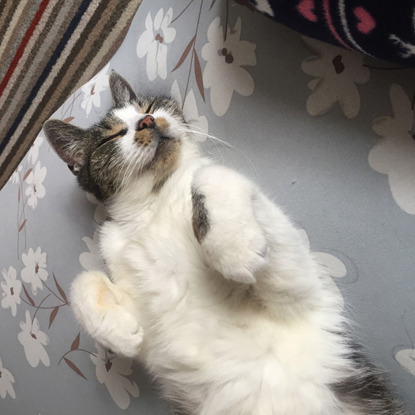 Toby's new owner Joan saw past his old injuries
Dawn would have loved to have kept Toby but the tabby was terrified of her friendly dogs so she made the tough decision to place him into CP's care.
While Toby was well looked after in CP's care, it took him a while to be rehomed. Potential adopters, it seemed, couldn't see past his ragged ear and limp.
Then Joan Hillman arrived to see the cats as she was looking for a new pet. She wanted a cat that had experienced a rough past – one to which she could offer a bright new future.
While the other felines Joan saw were friendly and affectionate, Toby sat in his pen staring straight ahead, like a statue, which made her notice him. She went back to take another look, and made up her mind to take him.
Joan adopted Toby in November 2012, and he is well and truly settled in his new Cornish home.
"He is so affectionate," says Joan. "He follows me everywhere and knows when I've moved. He won't go outside without me! The whole family loves him."
Dawn, who originally found Toby in her garden, says: "All he wanted was someone to love him. He has that person now."