To celebrate the launch of his new Toto the Ninja Cat book, Dermot O'Leary answers questions from Cats Protection and young cat-fans
In an exclusive conversation with Cats Protection, TV presenter and author Dermot O'Leary talks about his love of cats, and how his own moggies inspired the characters in his books.
In the video, Dermot speaks to Cats Protection's Director of Veterinary Services Maggie Roberts about his cat Toto, who is almost blind but doesn't let that stop her from having adventures.
"We started calling her the little ninja and that's where the idea came from," said Dermot. "I loved the idea of personifying her and creating a different world full of animals and so Toto the Ninja Cat was born. She is officially a cat ninja, she works for Larry the 10 Downing Street cat. He's the boss of the UK branch of the Ancient Order of International Cat Ninjas and they're there to just make sure humans don't do anything stupid."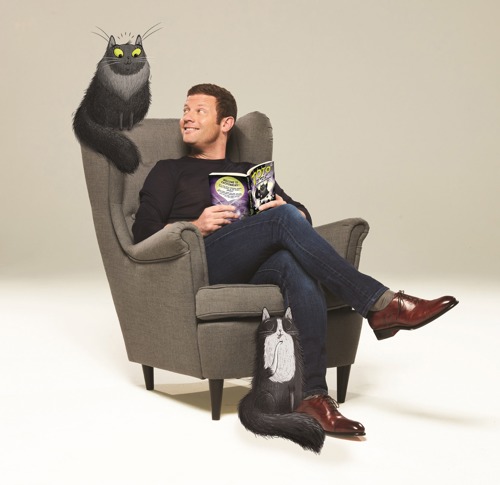 Dermot with the illustrated versions of his cats Toto and Silver
Dermot also talks about his other rescue cat, Socks, and how his love of writing began at a young age. "I used to write detective fiction, then photocopy it and sell it on our estate for 5p," explains Dermot. "I've always loved words and I've always loved reading."
Then it's time for Dermot to answer questions from young cat-fans, such as how did you come up with the names for your cats? What makes cats good ninjas? And what is your favourite cat fact?
Dermot answered: "My favourite cat fact is that the show of love is when a cat blinks at you really slowly. When people think cats are being unfriendly, they're actually being friendly!"
The exclusive video conversation is also available on Cats Protection's education portal which is full of fun activities for cat-loving kids and their parents to do at home during the Easter holidays. Dermot also gave us a reading from his new book, with an appearance from the real Toto herself! Watch it in the video below. 
Dermot said: "I'm a big believer in the importance of rehoming animals, especially cats as you know, so I'm really pleased to be working with Cats Protection – they help over 200,000 cats and kittens every year and despite the lockdown they've rehomed around 20,000 cats thanks to their hands-free homing scheme. My cats Toto, Silver and Socks were all rescued and you can learn a bit more about them in my Toto The Ninja Cat books and in this exclusive online event, hosted by Cats Protection, where we'll be talking all about cats and how to take care of your own little feline ninjas!"
Maggie said: "It's fantastic that Dermot is such a passionate cat lover and that he promotes our feline friends in such an entertaining way for children. Here at Cats Protection we want every cat to have the chance to live their best life so we're thrilled to be working with Dermot and getting the chance to talk to other fans about helping the UK's cats and kittens do just that!"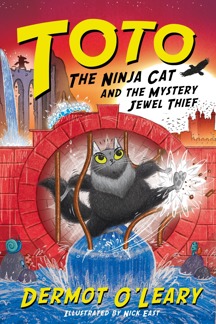 Toto the Ninja Cat and the Mystery Jewel Thief by Dermot O'Leary, illustrated by Nick East, is out now in paperback from Hodder Children's Books. If you order the book from Chorleywood Bookshops you will receive a limited edition print with your delivery and they will make a donation to Cats Protection for every copy purchased via their website, helping more cats and kittens in our care.