Teen volunteer Tristan cares for cats for his Duke of Edinburgh award – part 6.
This post has been written by Tristan Goodway-Sims who is supporting his mum with fostering for a Duke of Edinburgh award
In my previous blog post, Honey and her kittens were returned to CP's Bridgend Adoption Centre and I am happy to report that mum and kittens were all adopted by their forever homes.
We immediately collected a queen called Lana and her three tiny kittens, Logan, Libby and Lottie. The next five weeks were very challenging but rewarding. Poor Lana required supplementary feeding as she wasn't in the best condition while still providing milk for her three kittens. Every time I passed her I would stop to stroke and feed her. It was heartbreaking to see her being underweight and her coat so dull but she was a devoted mum to her kittens.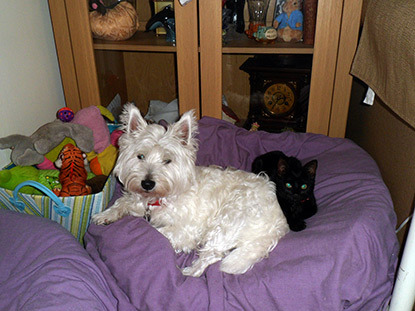 Lottie (who has been renamed Lily) with dog pal Megan after adoption and successful integration into the home
Lana was so friendly we all became very attached to her and it was fantastic to see her put on weight. Her coat became glossy black and the energy and sparkle in her eye gradually returned. Lana's kittens were undersized for their age and a lot slower than our other foster litters to reach their milestones, so needed extra time and patience. This meant we became even more attached to Lana and her kittens and it was hard taking them back to the adoption centre! Well… to be honest we didn't return all of them. After 2 years of fostering and managing reluctantly to return all the Mum's and kittens this time we couldn't part with the smallest and decided to adopt her. As an all-black kitten we knew she wouldn't be snapped up as the centre was at the time overrun with black and black and white kittens.
We then fostered Daenerys and her three kittens followed by Yoko and her four kittens – there are always foster cats needing our help!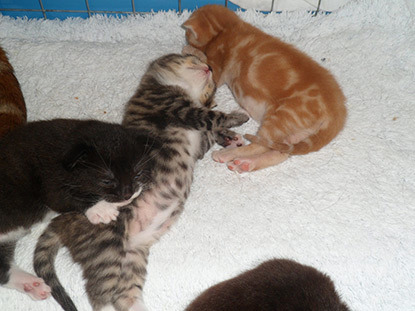 Yoko's kittens
This blog post is actually goodbye for now from me as it's the end of my six months volunteering for Cats Protection's Bridgend Adoption Centre. I would like to take this opportunity to thank Cats Protection for allowing me to foster mums and their newborn litters (under my mum's supervision) and the staff at Meow! for giving me the chance to chart my journey in a blog.
I have learnt so much in the last very busy six months. I have tremendous admiration for the mother cats who have had such upheaval while pregnant and nursing yet are good-natured towards us humans and devoted mums to their kittens.  All the kittens have taught me they each have their own individual distinct personalities and understanding that is the key to looking after them and matching them to their appropriate forever homes.*
I quickly discovered that playing with and cuddling kittens makes up only a part of fostering. Cleaning, form filling, record keeping; nursing/medical is a significant part. If you don't like the smell and sight of cat/kitten vomit or diarrhoea then kitten fostering is not for you! Similarly, the mum cats and kittens need and depend on routine particularly when the kittens are weaning. I have to be in regularly throughout the day from first thing in the morning until last thing at night or organise appropriate cover (thanks mum). Tiny kittens with stomachs the size of thimbles can't wait for me to get back from being out with friends to be fed.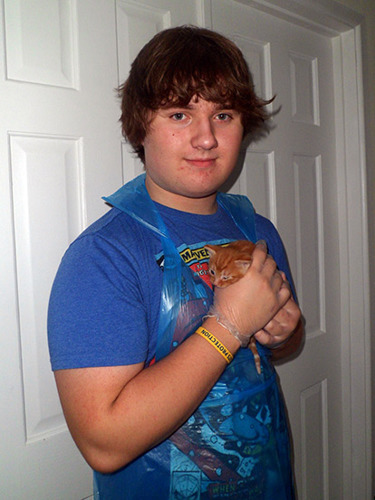 Tristan giving eye drops to a poorly kitten
I was thinking about the best bit of being a fosterer and the hardest thing. But then I realised one of our foster cat Honey sums this up perfectly in the following story…
Mum and I went to the Bridgend Adoption Centre to pick up supplies. Honey and her kittens had returned to CP weeks earlier. The kittens had all been adopted and Honey had been spayed but was still at the centre. We were walking to the supply cupboard along the rehoming corridors and it was very quiet when we heard this clear knocking sound. It went on and on and we started to look round but couldn't see anything. The knocking was getting louder and more insistent so we followed the noise intrigued. Round the corner we found the source of the knocking. It was Honey in one of the pens, on her back legs knocking furiously at the glass with her front paws. We were amazed that she seemed to recognise us, remember us and was trying to get our attention. We were allowed to open the pen and give her a cuddle and we were as pleased to see her as she was us. My mum started crying. And that's the best and worst part of fostering right there… getting to know and care for these fabulous cats and kittens but having to give them up. But we know it's for the best reason – so they can have a permanent happy new home.
*Veterinary note: Kittens learn what is normal and safe during a very sensitive period of development between two and eight weeks of age – the 'socialisation period.' Having a variety of positive experiences during this time period – for example with different sights, sounds, textures and smells – will mean they are more likely to be able to adapt in the future.