Why we microchipped Cats Protection's Chief Executive... or did we?
Did you see our latest video that we launched yesterday?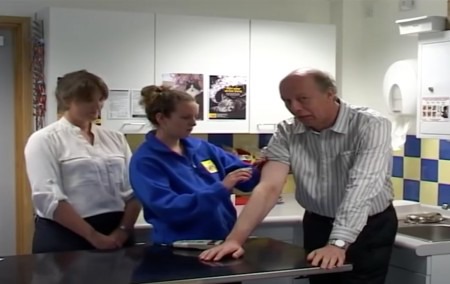 Okay, next question, who fell for it?! Yes, it was our attempt at an April Fool prank!

We hope that you enjoyed seeing our Chief Executive, Peter Hepburn, appearing to be microchipped and can assure you that no microchips were wasted and also that Peter emerged unscathed from the filming!

We decided that it was about time we did something fun for April Fool's Day and wanted to get across an important message at the same time, so we hope that we have achieved both of those objectives with our little act of mischief.

As we mentioned in the video, microchipping is the safest, most reliable and only permanent way of identifying cats if they get lost, but an incredible 83 per cent of those coming into our care do not have a microchip.

Microchipping is a simple, painless procedure that could be the difference between being reunited with your cat and not seeing him again if he goes missing, but not enough people are getting their feline friends chipped.

If you haven't got your cat microchipped yet, we would strongly urge you to consider asking your vet about this simple but important procedure.

You can find out more about microchipping on the Cats Protection website.