Poor little Millie was unsure of new people, but when Naomi spotted her in a Cats Protection adoption centre, she knew anxious cat Millie was the one for her.
We're really pleased to publish a guest post by Naomi Sampey, who adopted tabby Millie from our adoption centre in Chelwood Gate, Sussex, a few years ago. It's a great example of how initially nervous cats can become great pets with love and patience from the right owner.
We visited the National Cat Adoption Centre six years ago looking for an addition to our family.
There, we found Millie.
Millie had been at the centre for six months, hiding underneath a small plastic stool which was covered in a blanket in her cage. All that was visible was her face in the shadows. She was branded the most nervous and anxious cat in the whole centre, and the kind and dedicated team working there were reluctant to let her go as she seemed so emotionally damaged.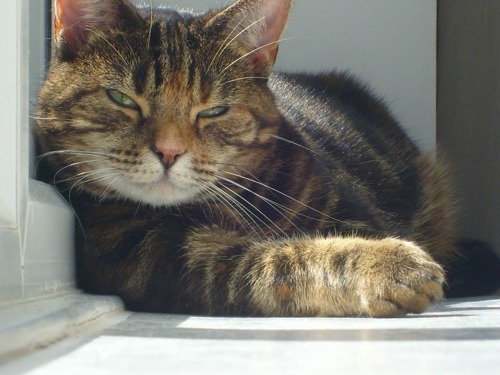 Once-anxious Millie is now a happy cat, thanks to Naomi's patient care
After a successful home visit, we were able to take Millie home the day before New Year's Eve. Millie spent the first three months underneath our bed, too afraid to come out. She did not make a sound for the first month.
Gradually, she ventured out and week by week, month by month her confidence grew.
Over the years, we have nurtured her into one of the happiest pets anyone could ask for. Her transformation is miraculous and it just goes to show that if you never stop working on developing the trust and relationship you have with your pet and showing them unconditional love, your pet has the potential to become a well-adjusted, happy part of your family.
Shy and timid cats can make lovely pets, given time and patience. Cats Protection has around 5,400 cats in its care at any one time, including nervous cats like Millie, who are given special attention until they are ready for rehoming. To support our work with cats, just click here.