Known as a local stray with battle scars, cat Fergal has finally found a house to call home.
Fergal, the cat reported to Cats Protection's Chiltern Branch as a 'mean and ugly' stray, has been rehomed after becoming a social media superstar.
The tabby-and-white cat had become known locally for his swollen face and tendency to fight, and was found in a sorry state on the streets of Chesham where it's thought he had been for a number of years.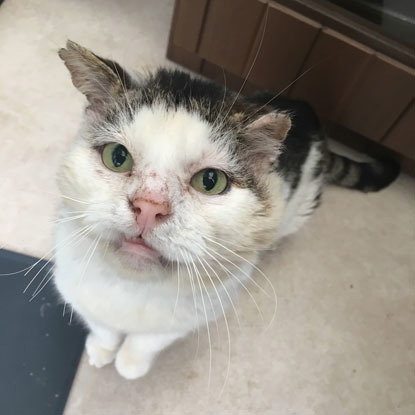 Fergal's battered appearance caused him to be overlooked by adopters
The Chiltern Branch collected him and took him to the vets, where he was treated for weeping abscesses on his face, had broken teeth removed, was neutered and diagnosed as FIV positive.
Once back in the charity's care he became the focus of the @ChilternCPCat Twitter feed, and his battered appearance and hard-luck story soon won him many loyal fans. He racked up a sizeable 3,095 followers and messages from Argentina, Finland, India and the USA filled the account's inbox.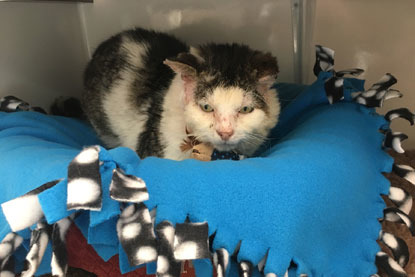 Fergal with his blanket that was donated all the way from New York
Monetary donations totalling £1,247 covered the poor puss's vet bills, with the remainder used to help other cats in the branch's care. Food, treats, toys, blankets, brushes and more also arrived from donors around the globe.
Heather Carpenter from New York sent a homemade blanket and toy mouse across the pond. She said: "I sent the blanket because I think every cat needs to know he or she is loved. Even knowing I couldn't adopt him, I fell in love with Fergal right away and wanted him to know that he is loved. Even when you're terrified and lonely, knowing someone somewhere loves you makes all the difference."
Slowly, Fergal began to grow more confident and began accepting fuss and cuddles, but despite his fame, he was overlooked by many potential adopters who were deterred by his unconventional appearance. However, one man who was not put off, Chris Elliot, eventually took Fergal into his home.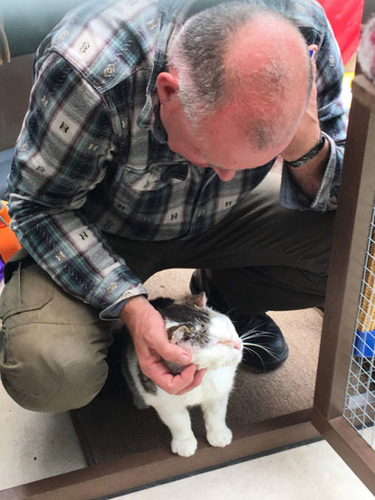 Fergal was pleased to meet his new owner Chris
"He reminded me so much of myself!" said Chris. "I had been down and broken and, very fortunately, been able to pull myself up and out. Now I could see the chance and opportunity to help such a gorgeous and adorable animal to recover and enjoy a peaceful and happy future and a healthy and loving life with me. When I met him I could see that he had a sad-looking face but also an extremely friendly nature."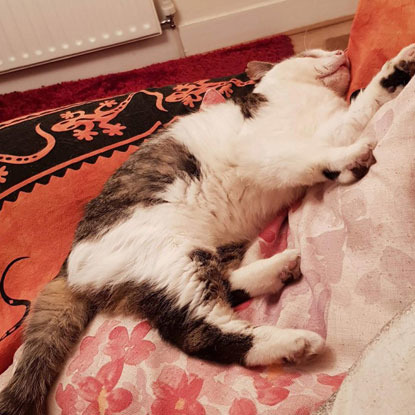 Fergal happy and relaxed in his new home. Credit: Chris Elliot
Chris wasn't aware of Fergal's Twitter fame when he decided to adopt him, but was touched to hear about the love he has been shown online. He said: "It's unusual having a celebrity cat but lovely to know so many people across the world love him as much as I do – we still have so many gifts and toys to rediscover and enjoy now that he is a bit more settled and is starting to play.
"Fergal took some time to settle but now we are great friends. I have begun to know some of his sweet quirks including his love of breakfast al fresco in his new 'catio', and his dislike of sharing my attention with the computer – he is truly adorable, and I'm thrilled to have him in my life."
To find your own feline friend like Fergal, visit https://www.cats.org.uk/adopt-a-cat to see the cats looking for homes in your area.