How we help you to find the perfect cat for your home and lifestyle.
When you register an interest in adopting a cat from your local Cats Protection branch or centre, we want to ensure that we're matching the right pet to the right home. The cat coming into your life should be the right one for you, your family, your home, your lifestyle and your plans for the future.
To help you decide what sort of feline would be your perfect pet, we've developed a light-hearted quiz which takes you through a series of questions to figure out the type of cat that would best suit your lifestyle.
With thousands of cats in our care at any one time, we've always got the right cat to fit every home. But for some cats it can take a little longer. Older cats (aged over 11), for example, can take five times longer to be adopted than kittens.
That's why our Torquay & District Branch was especially overjoyed when they rehomed the gorgeous Mouse, a 10 or 11-year-old cat who had been in their care for a year. Mouse, who has diabetes, had been overlooked by potential adopters time and time again.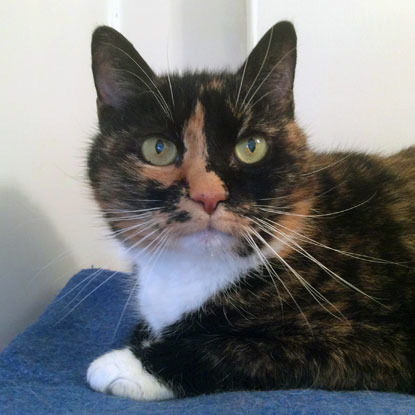 Diabetic Mouse spent a year in our care, being overlooked by potential new owners time and time again
Finally a kind couple, unfazed by her condition, were happy to take her on. Not only had they owned a diabetic cat in the past, but the husband is also diabetic himself, so they had no hesitation about giving her insulin.
"She was a little nervous to start with but is slowly growing in confidence," said Mouse's new owner, Ted. "We noticed Mouse in the local paper so we rang up and next thing we knew we were meeting her in person. Even our relatives in New York saw the article, so she's world-famous!"
Mouse seems to have settled into her new family very well and we wish her all the best for the future.
To take our quiz, click on the following link: What sort of cat should I adopt?
If you're considering adopting a cat, try using our Find-a-Cat tool which allows you to view cats that match your home and lifestyle and which are ready for rehoming now. Search for a cat at https://www.cats.org.uk/adopt-a-cat