Your stories of cats who were in Cats Protection's care for a long time but are now happily settled at home.
As part of our recent long-stay cat appeal we asked supporters who enjoy living with older, shy or black cats to share their stories with us. By displaying these heartfelt messages on the pens of some of our long-stay cats we hope to inspire people to give a home to a cat they might otherwise have overlooked.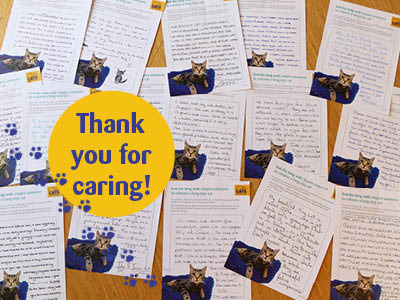 Our supporters' love of cats shone through and lots of you shared stories. Some focussed on their cat's entertaining quirks, others were more poignant. What they all shared was how much joy cats that often get overlooked bring to their owners.
With so many wonderful messages, we wanted to pick a few to share with you. First up is Bramble, a black cat who has clearly found the perfect home!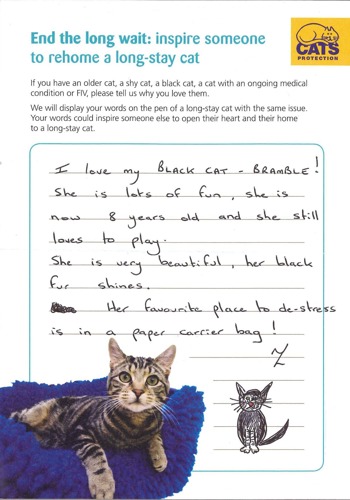 Giving a home to cats who have long-term medical needs can be one of the most rewarding ways of showing your love for cats.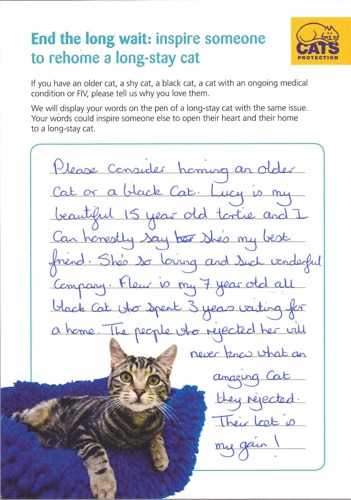 "The people who rejected her will never know what an amazing cat they rejected."
After waiting for three years, Fleur finally found the loving home she deserves which she shares with 15-year-old Lucy.
Meanwhile at Carolynne's house, her four black cats rule the roost!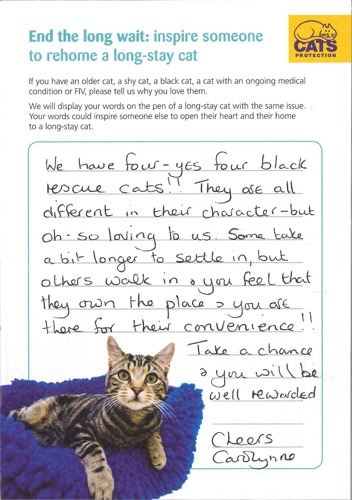 We'd like to say another huge thank you to everybody who donated to our appeal and who shared their cat stories. Find out how you can adopt a cat too.