Kittens found semi-comatose and covered in manure rescued by Cats Protection volunteers.
A group of five tiny kittens are recovering in the care of Cats Protection after being found dumped in the Norfolk countryside.
The kittens – thought to be about a week old – were found on Friday 6 September, semi-comatose and covered in manure beside a cat carrier in a hedge near the village of Thurlton.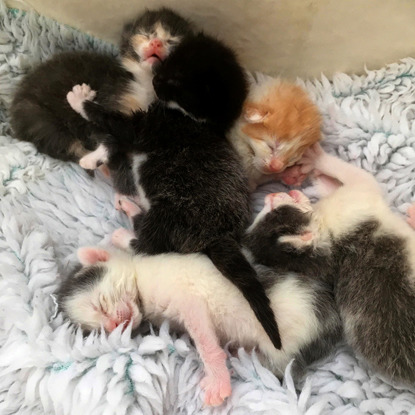 A dog walker chanced upon them and rushed them to a local veterinary practice, who in turn contacted Cats Protection's Anglia Coastal Branch.
Volunteers from the branch have been busy looking after the kittens ever since and have called them Daisy, Heath, Heather, Poppy and Yarrow.
"These kittens are so lucky to be alive, it was a really horrendous act to have just dumped them," says Lynne Pothecary, a volunteer for the branch.
"Two of the kittens were lying on top of each other while three others had fallen out of their carrier and had rolled down a verge. They were so young that their eyes were still closed and they couldn't walk.
"They were all cold to the touch and weren't going to last much longer in the chilly autumn temperatures.
"Since Friday, we've been keeping the kittens warm using blankets and mini-heatpads and feeding them every two hours to get their strength up. We will find them new homes when they reach nine weeks of age and are old enough to be domestic pets.
"The easiest way to avoid unwanted kittens in the future is to neuter pet cats. Just one unneutered female cat can produce up to 18 offspring in a year so neutering will drive down the number of kittens that are abandoned in such terrible circumstances."
If you would like to offer any of the kittens a home, you can contact the Anglia Coastal Branch on info@angliacoastal.cats.org.uk or phone their helpline on 0345 271 4202 (lines are open Monday-Friday, 8.30am-6.00pm or Saturday, 9.00am-3.00pm). 
To find out more about how Cats Protection can help with the cost of neutering, or to find cats looking for homes in your area, visit the Cats Protection website.