Does your home have space for a gorgeous ginger cat?
Today is National Kiss a Ginger Day, a day when people are encouraged to find their favourite redhead and give them a cheeky peck on the cheek!
Instead of finding human company, however, we've taken the opportunity to show you some of the gorgeous gingers in Cats Protection's care that are waiting for homes. While we don't necessarily advocate giving your cat a big kiss*, these cats are looking for plenty of love and attention. Could you give them their forever home?
Mickey – Newbury Adoption Centre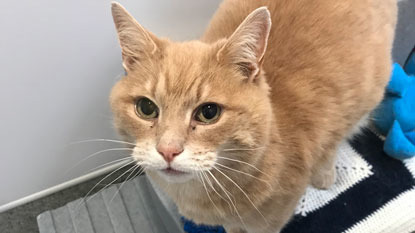 Placid, loving and affectionate Mickey is a gorgeous 15-year-old cat. With poor eyesight due to high blood pressure, he'll need to be on medication for life and would benefit from a quiet home with a secure garden away from busy roads. Partial to a good nap, he'd make a lovely companion. To give Mickey a home, contact Newbury Adoption Centre on 01635 200 111 or newbury@cats.org.uk
Pugwash – Birmingham Adoption Centre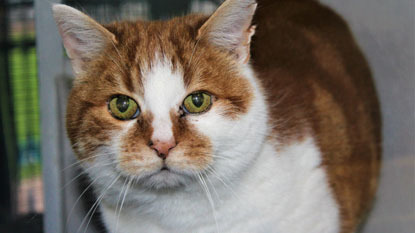 Slightly rotund, 10-year-old Pugwash is very loving and extremely protective over his brother Captain, who had to have his front leg removed. Pugwash helps him get around and they snuggle up together. As the pair are totally inseparable, this gorgeous ginger will need to be homed with his brother. To offer them both a home, contact Birmingham Adoption Centre on 01564 822 020 or email birmingham@cats.org.uk
Harvey – Bridgend Adoption Centre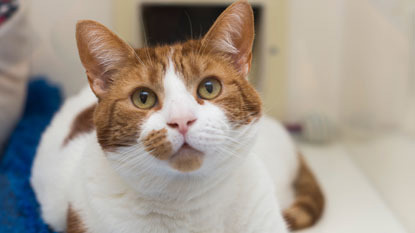 Harvey is a handsome five-year-old ginger-and-white cat who has sadly been bought into care twice – the first time because his owner didn't want him and the second time as he didn't settle well with the other cat in the home. An independent cat, he does enjoy a fuss on his own terms and would suit a quieter home where he can curl up and relax. He isn't keen on dogs and will need to be homed somewhere where he is the only pet. To give Harvey a home, contact Bridgend Adoption Centre on 01656 724 396 or email bridgend@cats.org.uk
Jason – National Cat Adoption Centre, Sussex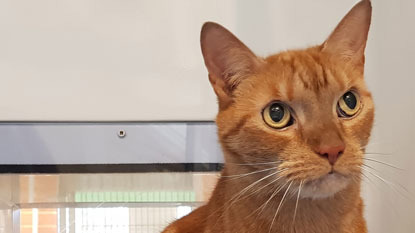 Eleven-year-old glorious ginger Jason is known for his glossy coat. Sadly, his shyness has seen him passed by in favour of more outgoing cats. Although he can be shy initially, he enjoys fuss and attention once he is comfortable. A calm and quiet home would suit him so he can go outside, explore and even have a few adventures. Although he has lived with other cats before, dogs and children frighten him. He does have a slight heart murmur but this doesn't hold him back and he'd make a lovely addition to a household. To offer Jason a home, contact the National Cat Adoption Centre on 01825 741 330.
If you'd like to find a cat in your area (of any colour), type your postcode into our Find-a-Cat tool.
*Veterinary note: It is fine for owners to kiss their own cat, as long as the owner and their cat are medically healthy and that the cat is used to that level of contact with their owner. Kissing on the head would be less invasive than other areas and kissing on the cat's stomach is a big no-no! Cats prefer brief interactions rather than prolonged, intense interactions and tend to use 'nose to nose touching' as a greeting. This could be incorporated to make it less scary for the cat.