How Harley went from being a fearful feline to a confident cat.
When six-year-old Harley arrived at Gosport Cats Protection in January 2018, he was rarely seen by his fosterer, Heather Wood.
Her very first foster cat, he would spend his days hiding away in a cardboard cat house in his pen, only coming out at night to eat and use his litter tray.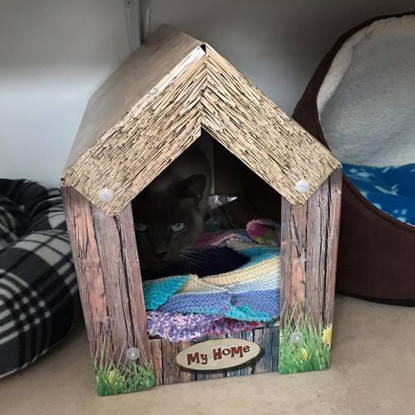 Harley in his cardboard cat house
Then Heather noticed that he had some problems with his mouth. "We had no choice but to put him through two major operations, removing all his teeth," said Heather. "There were numerous vet visits which meant I had to encourage him from his house into a basket. Returning from the vets, Harley would jump out of the basket and go straight back in his house."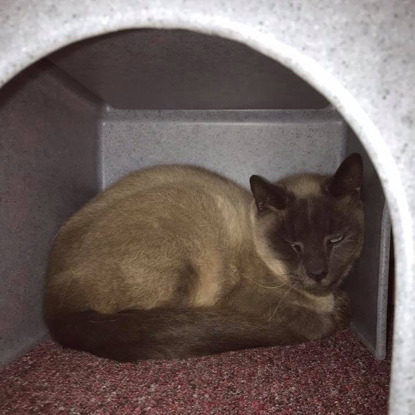 Harley liked to hide away from people
This shy behaviour continued and Heather made sure to give him plenty of space, until all of a sudden, Harley did the unexpected.
"I took him back to the vets for a check-up and when I brought him back to the pen, instead of going back into his house, Harley jumped out the basket and rubbed round my legs! I started stroking him and there was loud purring and a lot of dribbling.
"The next evening, I went and sat in the pen and Harley came out of his house and onto my lap, drooling and purring and rubbing against me for all he was worth. I have to admit, there were tears in my eyes as I realised Harley had put his trust in me and felt more relaxed in my presence."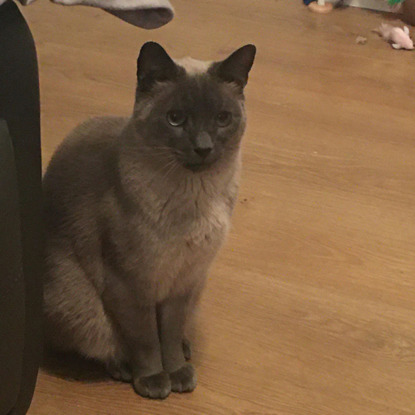 Harley Blue in his new home
As he recovered from his operations, Heather set about finding a forever home for Harley with an owner who would give this special boy the time to settle in at his own pace.
"Helen came forward and was happy to visit Harley in the pen while he was recovering from his operations, even though he wouldn't come out of his house."
By Easter, Harley was considered ready to rehome and Helen adopted him. She took his cardboard house with him so he would have something familiar in his new home, and she also gave him a new name, Harley Blue, to mark his new start.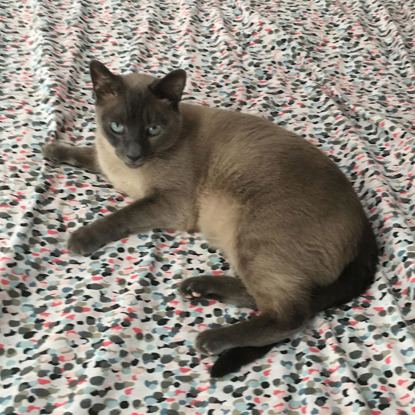 Harley Blue loves following his new owner around
"It took time and patience, but Harley Blue has come out of his shell with Helen, following her around the house and sitting on her lap. He's very content just to be with Helen, rarely visiting the garden even though he has access. He's even occasionally begun to greet visitors to her house!"
For more advice on caring for a shy cat, visit https://www.cats.org.uk/help-and-advice/cat-behaviour/shy-cats or to find out how to become a Cats Protection fosterer visit https://www.cats.org.uk/support-us/get-involved-volunteering