Top tips for a calm house at Christmas time.
While Christmas can be an exciting time for many, you might notice that your cat isn't always a fan of the festivities. In fact, unfamiliar sights, sounds and smells can be unsettling for cats, so it's no surprise that they can appear Grinch-like at this time of year.
Whether you're leaving your cat home alone or you've got various visitors around to enjoy the fun, it's important to ensure your cat is safe and happy. To ensure all is calm this Christmas, take a look at our advice.
Home alone?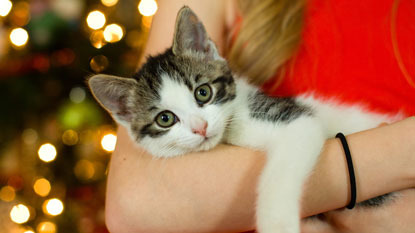 If you're visiting friends or relatives during the festive season, you might be concerned about what to do with your cat while you're away. Cats are solo creatures, so most of them will be more than happy to spend Christmas on their own. However, you'll still need to make sure they're well cared for.
Choose a friend, family member or neighbour that can visit at least twice a day to ensure they are well-fed and safe. Alternatively, you could book a professional pet sitter to look after them, such as TrustedHousesitters.com
Before you leave, make sure you note down everything your cat needs. You'll need to include enough cat litter, food and medication for the time you're away, as well as writing down your vet's details and your emergency contact details.
To make the task easier, we've created a cat-sitter checklist. Download it, fill it in and stick it on your fridge – it has everything your cat-sitter needs to know.
House full?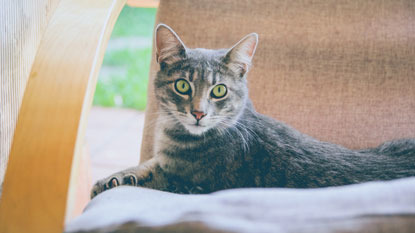 It can be tricky to avoid having a busy house at Christmas time, especially if you have a large family. If faced with lots of noise and unfamiliar people, some cats can become stressed. You might find them exhibiting some unusual behaviour, such as:
becoming more withdrawn or less tolerant of people
eating or drinking less
pacing or appearing restless
toileting in the house
over-grooming
If you are worried about your cat's stress levels, there are things you can do to help reduce anxiety. Keep them calm in the midst of chaos with our five top tips.
Provide a hiding place somewhere quiet so they can escape the noise.
Offer an additional litter tray away from busy areas.
Use a pheromone diffuser to help calm them during stressful times.
Designate a special, quiet room for them where they can be left undisturbed.
Ask your guests not to 'crowd' your cat, which can make them feel threatened.
Whatever you choose to do this Christmas, remember to keep your feline friend safe and happy – it'll make the holiday season less hassle for you too. For more advice on keeping your cat safe during this time, visit https://www.cats.org.uk/help-and-advice/home-and-environment/cats-at-christmas