Incredibly devoted volunteers raise £40,000 for by running car boot sales.
Two dedicated Cats Protection volunteers and supporters have raised a huge £40,000 for their local branch by running car boot sales over 13 years.
Jacquie and David Lowe adopted two cats from the Milton Keynes Branch in 2003 and then decided they wanted to help the charity a little more.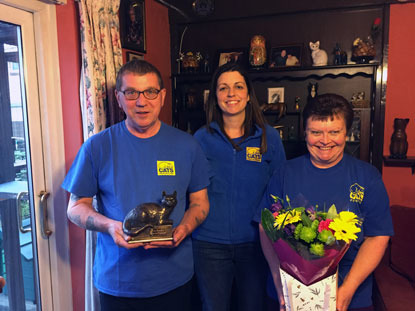 The branch gave the couple a cat sculpture to say thank you for their fantastic achievement
"We have always loved doing and visiting car boot sales and knew there were so many cats that needed help," says Jacqui. "We noticed other charity stalls, but nothing for cats, so we attended a committee meeting to put our ideas forward.
"We generally do car boots from approximately March through to about October, as outside these times, it does get too dark and cold. We try to keep up the fundraising during the winter by selling items on Facebook and Gumtree."
She goes on to explain that they even look for opportunities when they are on holiday.
"We have not had a holiday for ourselves for 14 years now, but all we care about is raising as much as possible for cats that desperately need our help."
As a token of their appreciation, the branch gave the couple a cat sculpture to mark the achievement.
Branch Co-ordinator Aimee Purnell says: "Jacquie and Dave are remarkable people. Their dedication and commitment to raise such a staggering amount of money is unquestionable. They have helped so many cats and kittens receive life-saving treatment, the best care possible and starting them off on the right food to their wonderful new homes.
"The awards and gifts were the committee's way of saying a massive thank you to the pair for the hours of work they give to the branch. They get up at all hours to visit car boots and when they are not doing that they are selling items on social media and other selling websites.
"Saying thank you really isn't enough for this special couple. The branch, me and more importantly the cats and kittens are incredibly lucky to have them."