Severely dehydrated cat Hunter pulls through after lots of love and care.
This post has been written by our Lea Valley Branch
Hunter came into our care as a very poorly, five month old.
It was clear that Hunter was seriously unwell and had not been eating or drinking for a number of days and, as a result, was severely dehydrated. However, he was somewhat responsive and trying hard to cope with being so unwell.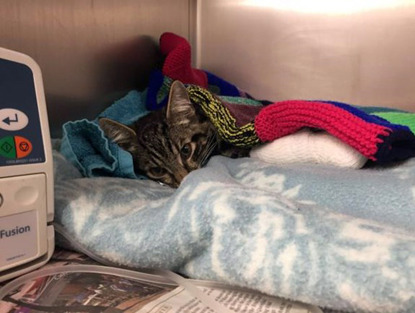 He was immediately admitted to hospital and put on a drip. Later that day he was given a scan which revealed he had a blockage in his intestine. When trying to eat or drink, it wouldn't pass through – instead the poor little chap would be sick, therefore not getting any nutrition. The vet stabilised him overnight and operated the next morning. They found that he had an intussusception – a condition where part of the intestine folds into another section of the intestine – resulting in an obstruction. The section of intestine that was blocked was removed.
The operation went well and, after a five-day stay in hospital, Hunter came home to our Welfare Officer. He was on a restricted diet and had five medications daily, and for 10 days he was doing well. Then, suddenly, he became very quiet and listless, and he was rushed back to the vet. Another scan revealed that he had another blockage caused from the scarring from the first operation. He was operated on again and had a further section of his intestine removed. After another five-day stay in hospital, once again he came home, with the same regime of a restricted diet and more medication.
By the middle of December, two-and-a-half weeks after his second operation, he was well and lively. He was eating, drinking (and toileting!) as he should be. The vet said that it was extremely rare to have a complication after the first operation.
The vets at Medivet have been wonderful, working with Hunter to ensure that he recovered from a life-threatening, very painful and stressful, double ordeal. as you can see from the photo, he truly deserved this chance, battling bravely throughout his ordeal.
Such a brave and lovely little chap didn't take long to find a new home. We are so pleased to report that he was adopted by a caring family on Sunday 8 January and we hope he will now live a long and healthy life with them, enjoying doing all the things such a young, brave cat deserves to be able to do. Hunter truly is our hero.
If you would like to support our branch to help other cats like Hunter, who come into our care every week, please donate at: www.justgiving.com/fundraising/CPLeaValley-HunterAppeal
Our branch is run solely by volunteers, so all donations go directly to help the cats and kittens in our care. Thank you very much.