Pregnant cat needs emergency Caesarean to save the lives of her unborn kittens.
Veterinary staff at Cats Protection's National Cat Adoption Centre have saved the lives of a pregnant cat and her four kittens after she had difficulties giving birth.
The team at CP's centre in Chelwood Gate, East Sussex, performed an emergency Caesarean section on black-and-white Lexi on 13 March after she developed complications during labour.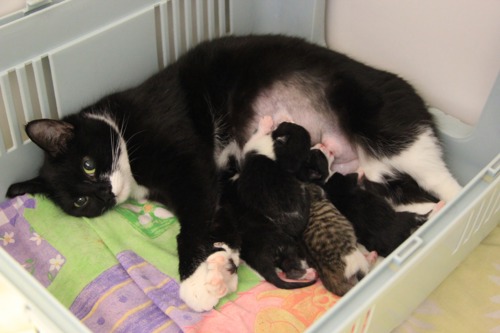 Nathalie Dowgray, Veterinary Officer at the centre, said: "Cats tend to be quite independent so when Lexi went into labour we let her get on with it but closely monitored to check everything was okay. It quickly became apparent something wasn't right and the kittens had become stuck.
"In that situation, you are really talking about minutes to get the kittens out safe and well. Fortunately, we have a terrific and very dedicated team who stayed on after hours to help with the operation. We were able to deliver all four healthy kittens."
Lexi and her kittens recovered well from the operation and are currently being cared for at the centre.
The kittens – two females and two males – have been named Nat (tabby) and Vicky, Dominic and Dale (all black and white) after some members of the vet team and their partners!
Former stray Lexi, who is only 14 months old, will be available for rehoming in several weeks once her vaccinations are up to date. Her kittens will be available for adoption once they're around 10 weeks old.
The National Cat Adoption Centre has set up a fundraising appeal to care for Lexi's kittens and other unwanted kittens this year. To help, please visit www.justgiving.com/NCAC-LEXI
Lexi's dramatic operation marks the start of kitten season, and the centre expects to be dealing with an influx of unwanted kittens in the coming months. Cats Protection recommends that all cats are neutered from four months old and we may be able to help those on low incomes with the cost of neutering. For more information, click here.
If you live reasonably near to the National Cat Adoption Centre and would like to find out more about adopting Lexi or her kittens, please call the centre on 01825 741 330.