Dexter and Mischief were brought to Cats Protection after being sold when they were too young to leave their mothers
Cats Protection is calling for anyone who has been mis-sold a cat or kitten within the last year to get in touch, after noticing a worrying rise in online kitten scams.
Dexter was the weight of just two cups of rice
Little Dexter weighed just 450g, no more than the weight of two cups of rice, when he arrived in the care of our Oxford & District Branch.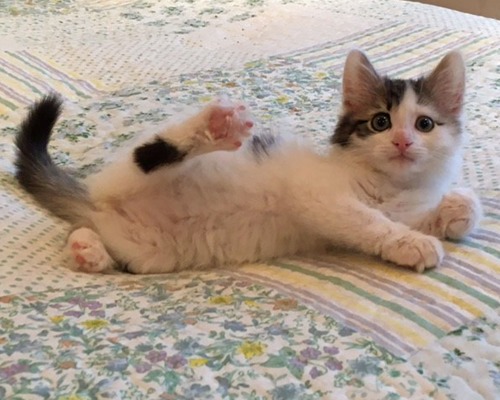 Dexter was sold when too young to be away from his mother
The very young cat had been mis-sold as an eight-week-old, 'part-pedigree', female kitten online but upon arrival at his new home, the kitten, who was actually male, did not eat or drink for two days. Concerned, his owner contacted us for help.
"As soon as I met the kitten, his lack of willingness to eat or drink was quite clear," said branch volunteer Gillian O'Neill. "Rather than being eight or nine weeks old as advertised, he was, in my estimate, four or five weeks old.
"It was also plain to see that he was not properly weaned. I had taken some kitten milk with me and he took a little. I discussed the options with the owner and agreed that we would take Dexter into care."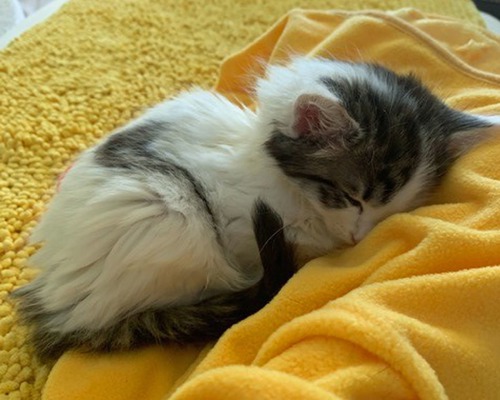 Dexter when he first arrived in our care, weighing just 450g
Gillian took the kitten straight to the vet. He was so underweight that his spine and rib cage could be clearly felt beneath his fur. It is likely that if the owner had not sought professional help as quickly as she did, Dexter would have died.
In order to coax Dexter into eating, Gillian tried kitten milk from a bottle and a saucer but Dexter was unable to tolerate either, leaving syringe feeding throughout the day and night as the only option. He also wanted constant company and had very little energy initially.
It wasn't until he began to eat solid food that he became much livelier, wanting to play and showing his highly inquisitive nature. Unfortunately an eye infection required another vet appointment, then shortly after, the young cat had a high temperature and needed another vet visit and antibiotics.
Eventually his health stabilised and he became a typical healthy and lively kitten who could be vaccinated and microchipped. He has now gone to a loving home with a family in Witney.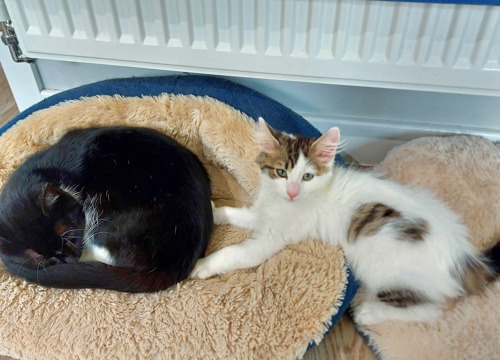 Dexter with his new friend Daisy in his new home
New owner Joanna explains: "Dexter has settled in really well and is a very happy kitten. We had two female cats already and he has taken a real shine to one of them, Daisy, who looks after him. It is very sweet to see. He is very friendly and really loves to play. We are very happy we were able to give him a home."
Despite Dexter's original owner's attempts to complain to the person who mis-sold the young kitten and to report the matter to the police, the listing had been removed and previous methods of contact no longer worked.
Mischief was trembling with a fever
Another kitten who arrived in our care after being mis-sold online was Mischief.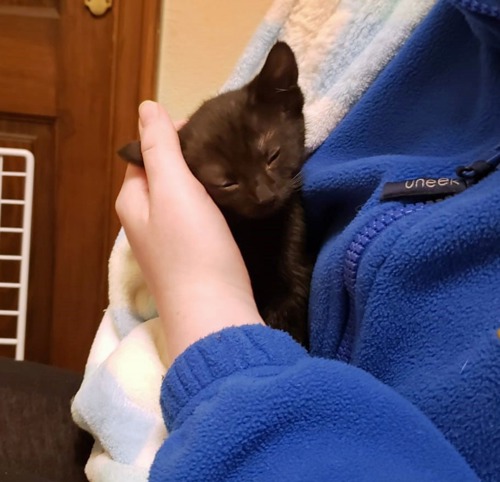 Mischief was very poorly when she arrived in our care
"In April, we got a call from a family who'd bought a female kitten from a local website and wanted to promptly give them up for rehoming," said Sue Hocknell, a volunteer for our Lichfield & Tamworth Branch.
"The couple had been told that the kitten was 10 weeks old but when we collected her it was clear that she was nearer to four to five weeks and was trembling as if she had a fever or was extremely stressed.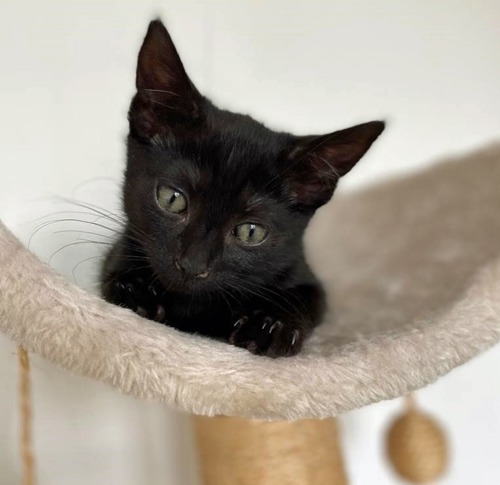 Mischief had to be properly weaned by our cat carers
"At four weeks of age the kitten was much too young to be separated from her mother and the seller had handed her to the family along with a tin of adult cat food and a packet of cat biscuits. If either product had been fed to this tiny kitten she probably would have choked. 
"We've spent the last two months nursing the kitten, who we called Mischief, back to health but she's still very thin and often becomes over excited. We're also awaiting the results of a blood test to see if Mischief may have feline leukaemia virus (FeLV) which causes fever and breathing difficulties in small kittens and is often fatal."
Buying kittens safely
Kittens should not be separated from their mothers before they are eight weeks old except on veterinary advice. Being separated from their mother early not only means they will not be appropriately weaned onto solid food but that they also won't benefit from learning typical cat behaviours from their mother, such as appropriate toileting, grooming, hunting, interaction with others, safety and play.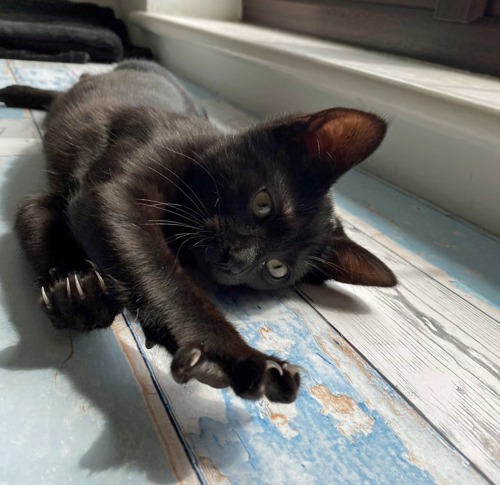 Mischief in her new home
Cats Protection's Senior Advocacy & Government Relations Officer, Madison Rogers said: "Dexter and Mischief are the lucky ones – although they were sold too young, they went on to be cared for by our dedicated branch volunteers who helped them thrive. But the best care for them during their first weeks would have been to remain with their mothers.
"Sadly, we fear there are many underage kittens being sold online by unscrupulous vendors who are impatient to make a quick profit. These kittens can go on to have serious, life-threatening illnesses or be so poorly socialised that they're not suitable as pets. They may then end up being handed into animal charities, or worse – abandoned to fend for themselves.
"Before the pandemic, buyers may have heard alarm bells if a seller offered to deliver a kitten to them, or said it was not possible to view the kitten with their mother. But the guidelines and restrictions on visiting other households made it very difficult to be sure of a kitten's background. We're asking buyers to think very carefully when using online adverts to find a new kitten."
Cats Protection is supporting the government's Petfished campaign to help the public research pet sellers thoroughly online before buying a new pet.
Members of the public looking to get a cat or kitten should consider adopting from an animal welfare charity and think carefully before purchasing a kitten from an online advert. It is illegal to sell kittens commercially under eight weeks old and they cannot be sold commercially via a third-party seller under six months old.
To help people purchase kittens safely, we've put together a helpful guide at www.cats.org.uk/buying-a-kitten-online
Have you been mis-sold a kitten?
If you have been mis-sold a cat or kitten within the last 12 months, we would love to hear about your experience so we can understand the true scale of this issue. You can get in touch with us at media.office@cats.org.uk