A twist of fate for black-and-white tom Charlie.
This post has been written by Homing & Welfare Officer Ann Walsh at Cats Protection's Basingstoke & District Branch
We got a call in July 2015 about two cats that had been left behind after their owners had been evicted. With a bit of detective work we tracked down their owners and they signed them over to us. They didn't know much about their history, as they'd taken them on from neighbours who no longer wanted them.
I was told Charlie could be vicious and bullied the other cat Stella… they said I'd need body armour to get him in a carrier! But actually he was as good as gold and from what we could see it was Stella doing the bullying!
We decided it would be best to home the cats separately. Stella soon found a home – she was a fluffy tortie – whereas Charlie, who was about 14, was a bit nervous and not the prettiest black-and-white boy. The poor chap didn't have much luck. Twice we thought we'd found the perfect home but each time it fell through. Then in November, we had a call from a lady called Debbie who was looking for an older cat, and Charlie had caught her eye. They were the perfect match! He settled in straight away and it was lovely to see Debbie's updates on our Facebook page…
Debbie's story
I got Charlie, a black-and-white boy, about 14 years old, from Basingstoke Cats Protection before Christmas. I left Ann an email to say I would like an older cat and I didn't mind whether it was male or female or what colour it was.
Ann did a house inspection and said Charlie would be good for me – great! I picked him up later that same day.
My sister-in-law, Michelle, who had seen pictures of him but hadn't met him, popped round in February. When Michelle started talking, Charlie came over to her, which he had never done to a stranger before – he normally hides.
She was staring at him and said: "He looks so much like my cat Sox who ran off five years ago."
I said: "How old would he be now?"
Michelle said: "He'd be around 12 or 13 years old now."
She had lots of pictures of Sox. Well, we just could not believe it – he had the same face, eyes, markings and character. His mum had given birth in garages and my brother saw that one of the kittens, Sox was very small and took him home.
We both agreed it had to be her Sox. She called his name and he started rubbing himself round her legs. Isn't that incredible?! I have my sister-in-law's cat!
The first photo of Sox below was taken five years ago.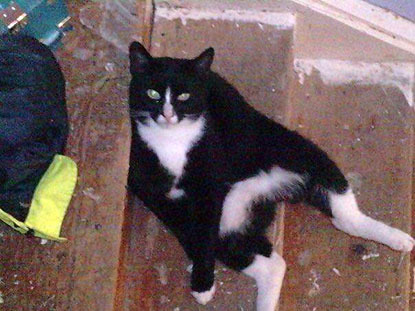 This next photo was taken of Sox or 'Charlie' while in Debbie's care.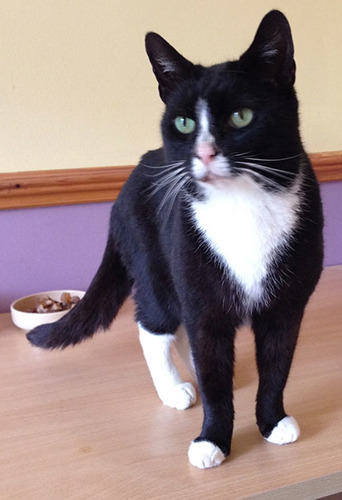 Michelle said: "I'm so glad you have him Deb and he's back in the family unit."
Editor's note: Sox wasn't microchipped by his first owner Michelle, so, unfortunately, she couldn't be traced. He is microchipped now, thankfully, so if he did ever go missing he could be reunited with his new owner, Debbie. It demonstrates the importance of microchipping!
Find out more about microchipping here.