Winner of Cats Protection's baking competition announced
A colourful cake munched by Garfield has been chosen as the winner of Cats Protection's Pawsome Afternoon Tea At Your Place competition.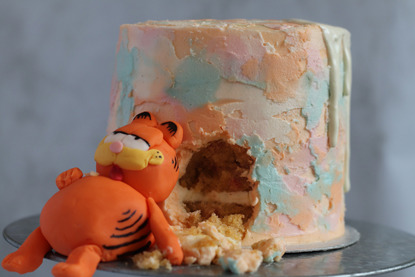 The fantastic winning cake
During July, keen bakers were asked to post their creations on our social media sites. In response, we received over 200 delicious entries from cat-lovers all keen to share their colourful and mouth-watering bakes.
Bake Off's Kim-Joy crowns Garfield cake as the winner
We picked a shortlist each week, with celebrity baker Kim-Joy, who was a finalist in the 2018 series of The Great British Bake Off, picking out the Garfield watercolour smudge creation as the overall winner.
Kim-Joy with her cats Inki and Mochi
Kim-Joy, who has two cats called Inki and Mochi said: "All of the cakes looked great and it was really hard to pick just one winner but I chose the Garfield cake because it had that element of fun and creativity while also showing multiple skills – the buttercream covering on the cake, the ganache drip and the fondant figure-making."
The cake was designed by Marta Buscanan, 23, from London who said: "I am absolutely delighted as baking and cake designing is what I want to focus my career on. I am also an animal lover and my heart melts every time I see a cat!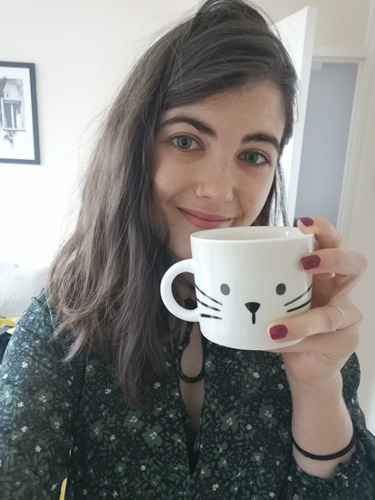 Winning baker Marta
"The cake design was actually inspired by one of Kim-Joy's from her Baking with Kim-Joy book, so being chosen as her winner is extra special. Kim-Joy is such an inspiring baker with an incredible style that I admire very much."
The competition also raised almost £3,500 to help Cats Protection find homes for the thousands of unwanted cats in our care.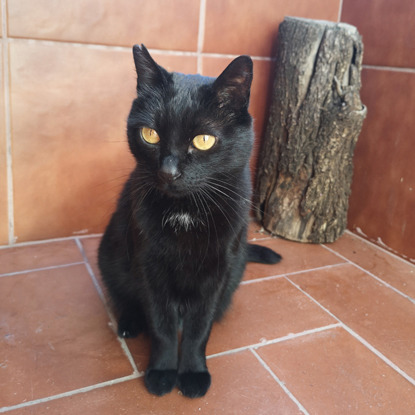 Marta's beloved cat Wilma
"We'd like to say a big thank you to everyone who sent in their bakes for our competition, the funds raised will help us guarantee brighter futures for many needy cats," said Zoe Thompson from Cats Protection's Events team.
"If you've been inspired by this competition, then why not hold your very own Pawsome Afternoon Tea at home? A quick guide and resources are available from Cats Protection to help you host a socially-distanced event."
To take part, register and we'll send you a Pawsome Afternoon Tea party pack.