Our Kitten Academy cuties Apple and Apricot have been adopted!
Catch up on our Kitten Academy series to see how much Apple and Apricot have grown.
Once they turned eight weeks old, Apple and Apricot were finally ready for rehoming and unsurprisingly it didn't take them long to get adopted. The cute sisters were reserved straight away and can now look forward to having their own space to explore in their new forever homes.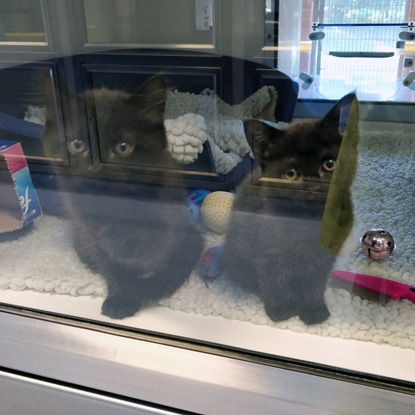 Apple and Apricot waiting to explore their new homes
Before they went, both kittens had a trip to the vets for a full health check and were found to be happy and healthy. They were vaccinated to protect them against common feline diseases, microchipped so their new owners can register them and be reunited with them more easily if they go missing, and neutered so that they don't have to suffer the ordeal of having kittens themselves.
They bounced back very quickly from their operation, running around their pen and chasing their toys like normal the next day. Apple is wonderfully fluffy and playful and loves to run, pounce and jump on anything that moves. She is still the bigger kitten, both in size and personality, but Apricot has also come into her own and has become quite skilled in stealing the toys from her sister when she's not looking. She is now almost unrecognisable from the tiny bundle of grey fur she once was, having grown into a beautiful black kitty.
In other equally fantastic news, mum Annie has also found her forever home. She is such an affectionate cat so will no doubt love getting fuss from her new owner, including her favourite – head rubs. She has also now been neutered so can relax without the worry of having another litter. She definitely deserves a rest after doing such a good job with Apple and Apricot.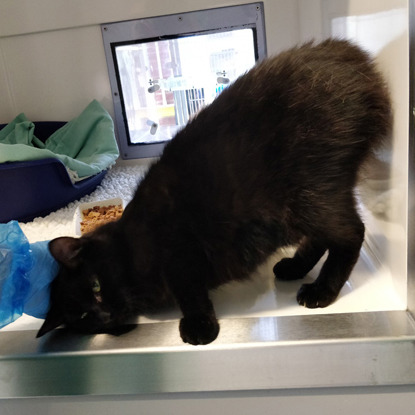 Annie will get lots more fusses from her new owner
We hope to be able to update you on Annie, Apple and Apricot's adventures in their new homes in the future but in the meantime you can catch up on how they got on at Kitten Academy here.
Read more about caring for kittens.
If you would like to adopt your own feline friend, find the cats available in your area at www.cats.org.uk/adopt-a-cat