Why the socialisation period is so important for the development of the kittens in our Kitten Academy.
Follow the progress of kittens Apple and Apricot over the next few weeks in our Kitten Academy series.
The first two months of a kitten's life are crucial for preparing them for the big wide world. Known as the 'socialisation period', this is when their brains and senses are still developing and they learn what is normal and safe.
When kittens are born in Cats Protection's care, or come into our care when they are very young, our volunteers and staff follow a structured socialisation programme to prepare them for a variety of experiences they may encounter in later life.
Over the next few weeks we'll follow the progress of Apple and Apricot, two female kittens at one of our adoption centres, as they embark on this programme and get ready for finding their forever homes.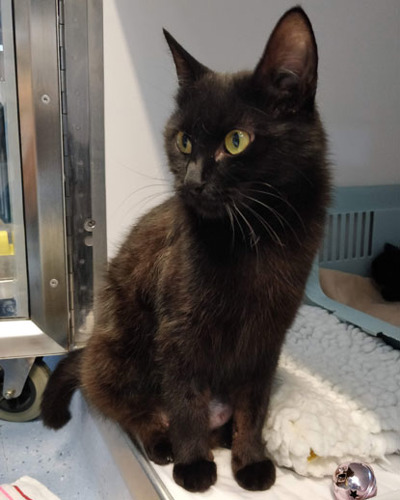 Lovely mum Annie
Their lovely mum Annie came into our care as a pregnant stray in May. At just two years old she's only recently been a kitten herself, but did a wonderful job of giving birth to her litter. Straight away it was easy to tell both kittens apart as Apple is more than twice the size of her sister Apricot, as you can see in the video below! However, they are both healthy and being well cared for by their attentive mum and the centre's hard-working volunteers and staff.
During their first weeks of life they spent much of their time cuddled up to Annie to keep warm and feed on her nutritious milk, but when they reached two weeks old and their eyes and ears started to open, they were ready to start Kitten Academy.
The most important part of any socialisation session is to ensure the kittens stay safe and healthy, so anyone handling them must wear personal protective equipment including disposable gloves, an apron and shoe covers to prevent the spread of infectious disease.
Once kitted out, it's good for the socialiser to spend some time with the kittens' mum first, even before she gives birth. This helps her get used to having them around so she is more comfortable with them approaching her litter. Annie loves a fuss and often comes straight up to the entrance of the pen for a head rub, sometimes pushing her head in the way of her kittens to make sure she gets some attention first! When mum has had a chin rub or two, the kittens can then get in on the action with some very gentle strokes.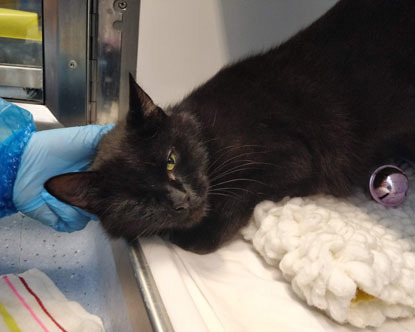 Annie loves having a fuss
As cats are solitary animals and do not have an inbuilt need to be with people, it's important for them to get used to being around humans before they reach eight weeks old. Regular short sessions of gradually introducing and repeating human contact within the safety of the kittens' pen helps them to see it as a positive experience. Without this contact, they are likely to grow up to fear humans and become feral cats that cannot be rehomed as pets.
While it's certainly fun and rewarding to be kitten socialiser, you also need a lot of patience as it's important to go at the kitten's own pace, paying attention to their behaviour and recognising the signs to slow down. Apple and Apricot were curious about being touched during their first socialisation sessions, but in just a week they have become much more comfortable with someone other than their mum giving them some attention.
Most of their time though is spent snuggled up with Annie and each other, as kitten need lots of sleep to grow big and strong. Apricot is particularly keen to spend her time snoozing, as you can see in the video above, but then she does have a lot more growing to do compared to her sister! They don't like being separated from their mum for very long, and will let her know when they want her back by making cute little mewing noises. Annie is such a good mum that she will usually come straight away to let them feed, give them a wash or have a cuddle.
Come back next week to find out how these sweet sisters are getting on when they turn three weeks old!
For more information about caring for kittens, visit our cat pregnancy and kittens page.