Urgent appeal – please help our Southampton Branch care for 24 rescued cats.
Volunteers from Cats Protection's Southampton Branch are appealing for donations after a call-out revealed many more cats needing urgent help than expected. 
The branch was alerted to a mother cat and her kittens sheltering from wind and rain in a hedge near a housing estate in Mansbridge by two concerned members of the public, Lisa Halls and Becky Jennings.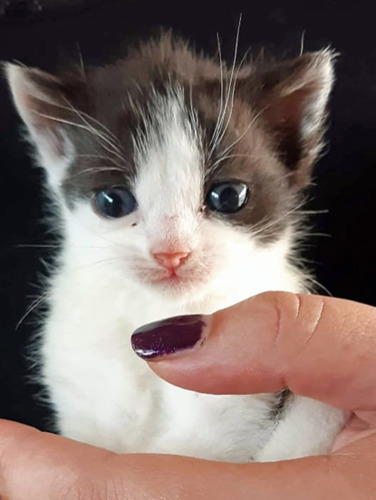 Belle the kitten was rescued just in time
When volunteer Cathy Godden arrived on site she realised that not only were the mother and kittens in need of help but that there were around 20 more equally needy cats nearby.
Becky had managed to crawl through to reach the cat and kittens by finding a hole in the wire fence which surrounded the bushes in which they had hidden. 
Cathy, who specialises in trap, neuter and return work with feral cats, rushed the mum and kittens to foster care before returning to begin the process of humanely trapping the other cats, assisted by Lisa and Becky.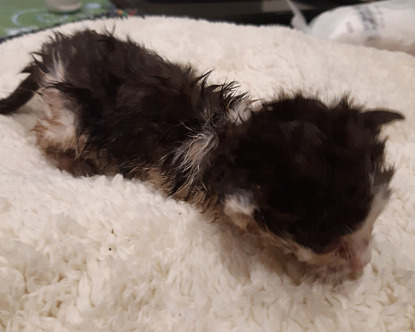 Scruffy Belle just after being rescued by the branch
Among the 14 cats and kittens the trio has captured so far, two scared black-and-white kittens were among the worst affected. Alone, with no sign that their mother had visited them in recent days, Cathy realised the tiny pair were unlikely to survive much longer in windy and rainy conditions.
Thought to be around two weeks old, even the smallest of the duo soon began to thrive once she was inside a warm home, dried gently and enjoying a tummy full of food. Her name, Belle, was chosen by the branch's Facebook followers.
Lisa explained: "I was told there were kittens born to a feral mother under some bushes and knew I had to try and help get them off the streets. After I called in Cats Protection, we soon found it was a bigger issue than we first thought, with at least 20 cats and kittens needing help.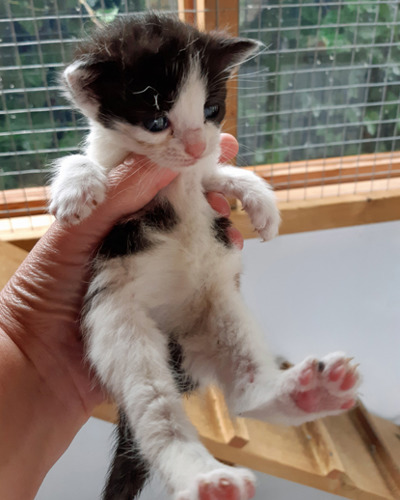 Belle in her cat pen just 36 hours after being rescued
"All the cats we have trapped so far need different types of care or help, but all have been neutered to stop the cycle of more and more kittens being born in the area.
"Some have been returned after their neutering procedure as they are feral and cannot tolerate human contact. Some older kittens will be best suited to life as farm cats helping with pest control, so we have taken four to a lovely farm where they will receive food and vet care but mainly live outside.
"Meanwhile, the tiniest of the kittens still need some TLC but will eventually be ready for rehoming where they will become family pets in loving homes."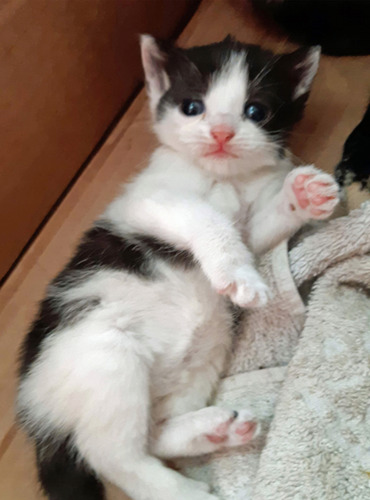 Belle is happy and healthy and growing stronger
Both Lisa and Becky have since joined Cats Protection's Southampton Branch as trap, neuter and return volunteers after their experiences helping the feral colony.
Branch Coordinator Carolyne Kemp said: "Trap, neuter and return work, or TNR, is extremely rewarding, but at times like this we experience great rollercoasters of emotion too.
"It's wonderful to trap feral cats and neuter them as there are many health benefits including the prevention of potentially dangerous pregnancies for females and less instinct to fight for males. However, when we see tiny kittens like Belle who are so much smaller than they should be, struggling to survive with no mother around, it shows how feral cats battle life and death every day.
"We are a volunteer-run branch and although we work closely with our local vets who give us excellent discounts on treatments, we certainly weren't expecting to suddenly have 20 sets of vet bills ranging from neonatal care to neutering!
"We would therefore be so grateful for any donations either via our Facebook fundraiser or Amazon Wish List. It will really help us continue this vital work with the cats and kittens of Mansbridge."
To find out more about how Cats Protection supports neutering, visit www.cats.org.uk/neutering