Little kitten Paddington is the purrfect surprise for his new best friends after his tough start in life
When Paddington and his siblings were just four weeks old they were cruelly dumped in a plastic box on the doorstep of one of our volunteers.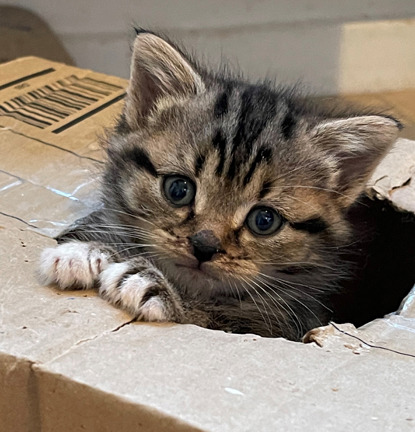 Tiny Paddington the kitten 
They were placed in the care of our Gildersome Homing Centre's Rehoming & Welfare Assistant Diane Armer, who also volunteers as a fosterer for the centre.
"They were quite nervous when I first took them in," explains Diane, "but as we got them early enough, I was able to socialise them and they soon became the sweetest kittens. It was a joy to see them develop and grow in confidence during the weeks they were with me."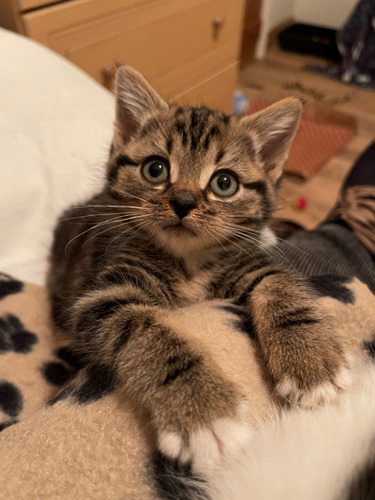 Paddington in his new home
Once the kittens were old enough, they were ready to find new homes, and it was then that Leonie got in touch, looking for a new family member.
Diane took the call and was able to tell Leonie all about Paddington. With his outgoing character he seemed a perfect match for Leonie's family, in particular her children; 12-year-old Drew and eight-year-old Megan, who had been desperate to get a cat for years.
"We hadn't told the kids we were getting a kitten just in case we had to change plans at the last minute due to shifting COVID-19 restrictions, so it was a complete surprise," said Leonie.
 
"After he was delivered to our home we got the children to come downstairs and sit on the sofa with a rug on their knee. When we placed Paddington down between them it was love at first sight!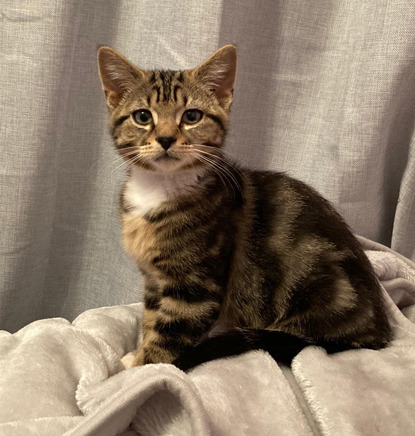 Paddington looking more grown up
"I always knew that when we did get a cat we would adopt and I'm so glad we did. He's a little monkey, but he's really cuddly and he loves the children. Of course, they adore him too.
 
"It makes me sad to think how differently things could have turned out for Paddington and his litter, but I'm so grateful that Cats Protection were there to take care of him, and all the other cats they help."
Leonie's mum Sue had also adopted her cat Crumpet from Gildersome Homing Centre not long previously and, as they are both tabby, Drew and Megan commented that Paddington looked like a baby Crumpet.
Sue's cat Crumpet 
Eleven-year-old Crumpet came into care due to the ill health of her previous owner. She was used to living a semi-outdoor lifestyle on a caravan site, so it was felt that she would benefit from a home with lots of outdoor space.
 
When Sue and Leonie were searching online for a cat that might be suitable for Sue, who lives on a free-range, no-kill farm, they came across Crumpet and thought she would be the ideal choice.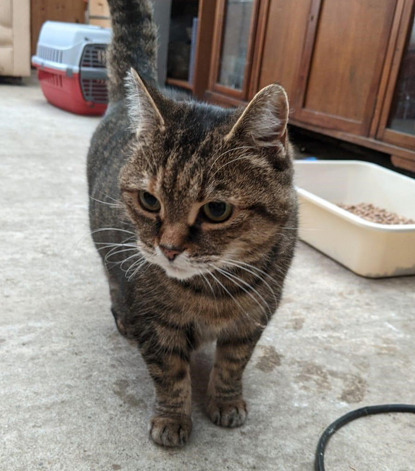 Crumpet in her new home 
Diane said: "We were looking for quite a specific home for Crumpet so when Sue said she lived down a track, half a mile from her nearest neighbours, it was a match made in heaven. Once we'd gone through our adoption process, we arranged for a hands-free handover and Crumpet went to her new home, where Sue tells me she's settled in brilliantly.
 
"It's was lovely to hear from Leonie not long after and be able to home a kitten with her as well – they are clearly a family of cat lovers!" 
We are delighted to be partnered again this year with Shark, who have committed to donating a further £50,000 each to Cats Protection and Dogs Trust to support our work during a one-year period. This funding will help us look after more cats in need like Paddington and Crumpet.
To find out more and purchase a Shark vacuum cleaner, visit their website. 
If you're looking to adopt a new feline family member, visit www.cats.org.uk/adopt-a-cat to see the cats available in your area.