Meet the finalists of the Furr-ever Friends category of the National Cat Awards!
There's no question that cats make the purrfect pets for young children. As well as helping kids to learn about compassion and responsibility, pet moggies can be there as a great listener, a cuddly companion and a best friend.
For the 2019 National Cat Awards, we've found three amazing cats who have helped their human best friends through some really difficult times.
Their stories highlight the remarkable bond that children can have with their cats and one of them will go on to win the Furr-ever Friends award at a star-studded ceremony in London on 8 August 2019.
Meet the Furr-ever Friends finalists 
Chi and Finley 
For eight-year-old Finley, who has autism and Sensory Processing Disorder, everyday life can be overwhelming. Coping with social anxiety, stress and isolation is a daily challenge and Finley can struggle to leave the family home.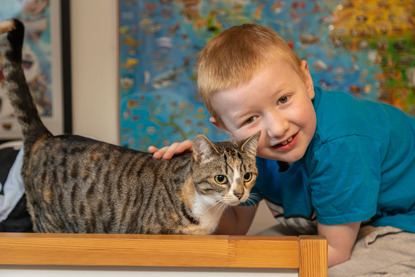 Desperate to help, Finley's parents thought a cat might bring some comfort so they brought rescue cat Chi into their son's life. The effect was remarkable – the pair bonded instantly and Finley got the unconditional love and non-judgemental friendship he needed to thrive. Where once Finley would have been withdrawn for hours at a time, he now has a constant companion in Chi who is never far from his side.
The mutual bond of deep love between Finley and Chi has been transformative, helping Finley build social networks with others by sharing stories about his beloved cat. The incredible effect Chi has had on Finley's life has since inspired more parents of children with ASD (Autism Spectrum Disorder) to adopt a rescue cat.
Mum Jo said: "Chi really is an ambassador for cats and helping more people understand what wonderful therapy they can be for children with ASD." 
Cisco and Charlie 
Charlie Hammond was just 14 when he was the victim of a mugging while out walking with friends. The effect on Charlie was devastating. Too afraid to leave the house, he stopped contact with friends and withdrew into himself.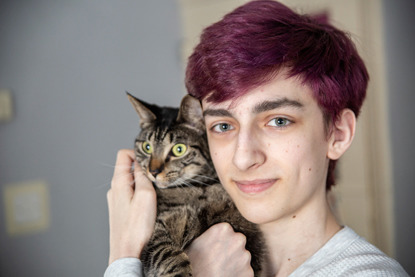 As his anxiety spiralled out of control, mum Zoe hoped that getting a kitten would help Charlie cope. And within moments of meeting Cisco, the fog started to lift. Straight away, the pair were inseparable, giving Charlie a fun and lively friend and a new focus.
Nearly two years on and Charlie has been able to move forward with his life, with Cisco at his side through thick and thin.
Jeffree and Finn
The sudden death of a parent would be difficult for any child to cope with but for 13-year-old Finn, who has Asperger syndrome, losing his dad just weeks after he'd been diagnosed with cancer was incomprehensible.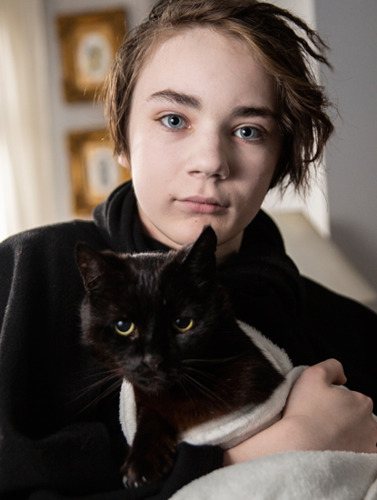 Finding it difficult to communicate with others, Finn became locked in a cycle of depression and despair. As he became increasingly withdrawn, mum Gayle began hoping for a miracle, which came in the form of former stray Jeffree. It seemed the eight-year-old puss would be perfect for the family and within hours of meeting, the change in Finn's outlook was remarkable.
Finn and Jeffree quickly formed a close bond, helping Finn cope with his loss and giving him a purpose in life once again. One year on, Finn's life has been transformed – all thanks to his feline friend.
To find out more about the National Cat Awards, visit www.cats.org.uk/nca