At a time when pet relinquishment is sadly on the rise, Cats Protection has received a welcome boost from Purina
With a 25% increase in the number of kittens handed over to our adoption centres in the first part of 2022, a generous donation of £100,000 from our long-term partner and supporter Purina is helping to fund the equivalent of a million meals for the growing number of unwanted cats coming through our doors.
They include mum cat Bunny who was heavily pregnant when she was handed to our Bridgend Adoption Centre this spring, after her owner said they could no longer afford to care for her.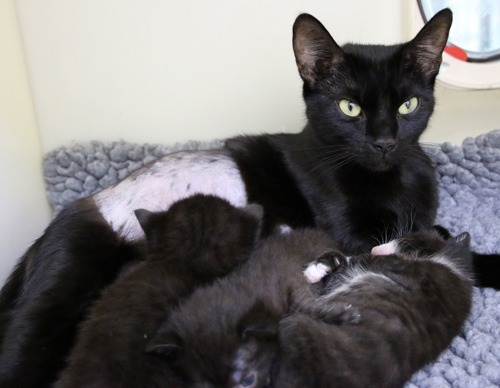 She gave birth to three beautiful kittens, Bonnet, Bloom and Benjamin but then developed a hole in her abdominal wall during labour. She needed emergency surgery, but thankfully has now recovered from her ordeal.
"It was touch and go for Bunny but she thankfully pulled through," said Molly Hughes, Deputy Manager of the Bridgend Adoption Centre.
"All four cats have since been adopted and can continue their adventures in loving homes. Bunny and the kittens certainly motored their way through a lot of cat and kitten food while they were with us, which shows what an important role donations like Purina's play in the daily running of operations!"
The donation also helped 15-year-old stray cat Jude who had a large wound on his side and a painful eyelid condition when he was brought to our National Cat Adoption Centre in Sussex in March.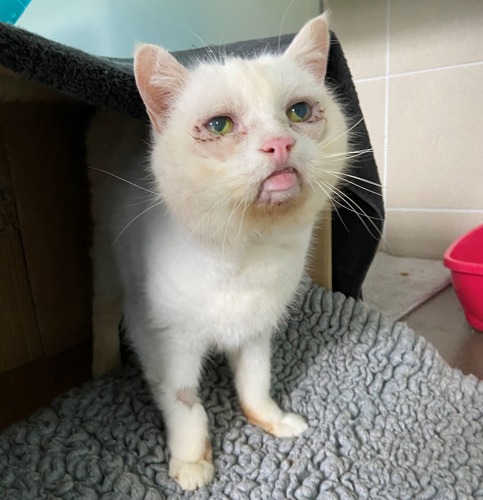 "Jude was in a very bad way, with a very painful injury and incredibly uncomfortable eyes," said Tania Marsh, Deputy Manager at the National Cat Adoption Centre.
"It's always heartbreaking to see a cat in such pain, especially as he may have been suffering for a while until he was found. Thankfully he has since had surgery to his eyelids as well as steroid medication to clear up his injury and he is on the road to recovery.
"He was pretty scared and unsure at first but has responded well to the care and support that our team has given him. He has been with us for quite a while and has been through a few pouches of Felix during his recuperation!"
Cats Protection's Corporate Partnerships Manager, Rachel Covey added: "Many of the cats in care across our adoption centres require weeks or months of veterinary care, feeding and other forms of help before they are ready to go to new homes.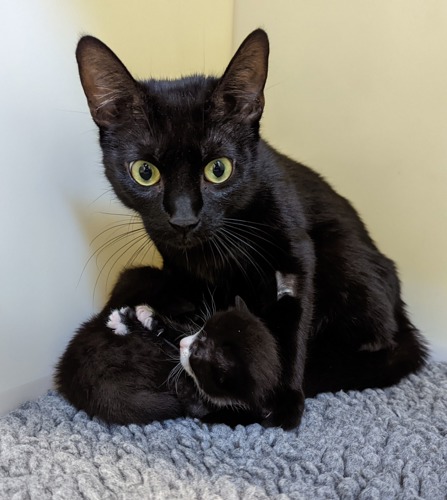 "It's a mission that Cats Protection and Purina take very seriously and Purina's generous donation helps us to give so many of these cats a brighter future."
CEO of Purina UK&I, Calum Macrae said: "At Purina we are passionate about helping to create and strengthen as many bonds as we can between pets and their humans. We also know that sadly this is a difficult time for some pets and their owners, with life changing again after the pandemic and the cost-of-living crisis starting to have a real impact on many families.
"We're so pleased that this donation will continue to support the vital work that Cats Protection does – providing many thousands of cats with the vital nutrition they need while they're on their journey to hopefully living long, happy and healthy lives in new homes."
There will also be an online video campaign to promote this fantastic collaboration, in association with Good-Loop, so please do support the campaign by watching the video if you see it – engaging with the video generates an additional donation to Cats Protection over and above the £100,000 already donated so please do look out for it!