After Dave became terminally ill at age 25, he and his partner, Olivia, adopted Monty from Cats Protection. Olivia believes Monty helped them cope through their darkest days.
In January 2018, after 18 months of treatment for chondrosarcoma, a rare form of bone cancer, Dave Willie, who was 25, received the devastating news that his illness had become incurable. As Dave's health deteriorated, his wife, Olivia, felt it was the right time to adopt a feline companion.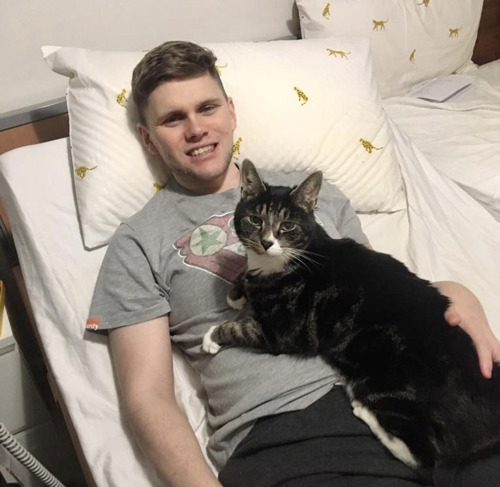 Dave with his feline friend Monty
"I've always loved cats and had been trying to convince Dave to adopt one for ages," said Olivia. "He was totally ambivalent to the idea at first, but as he became more unwell and was spending more time at home alone while I was working part-time, he realised he might appreciate the company."
The pair visited our National Cat Adoption Centre in Sussex, where they discussed their situation with the team and were introduced to a couple of cats. It was very important to them both that they adopted a cat who wouldn't be nervous around Dave's power chair.
"We met Monty and one other cat in the socialising room," explained Olivia. "The first cat was very sweet but a little nervous – we were told she might need some time to adjust. Monty, however, was totally at ease with everything, jumping up for a cuddle on Dave's lap straight away. Despite his previous reservations around getting a cat, Dave grinned and immediately said 'he's the one'. We were both totally in love with Monty from that first moment."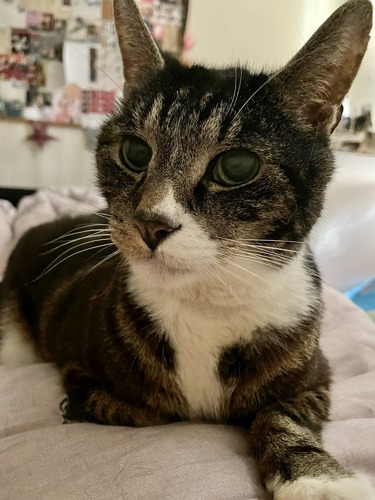 Monty was the perfect cat for Dave and Olivia's family
In October 2018, Dave and Olivia took Monty, now 14, home, where their bond with him only strengthened. One day, while Olivia was out, she received a text from Dave with a video attached, in which Monty was grooming him.
"Monty is the most affectionate cat I have ever known. Dave had been lying in bed one day and Monty laid next to his face on the pillow and started licking Dave's hair attentively – it was the first of many lovely moments. Monty also made us laugh so much at a time it would have been easy not to laugh at all. I remember one evening when we had a pizza takeaway, he tried to swipe a slice out of the box – it had us in stitches! I will be forever grateful for the friendship and fun Monty brought to our home during Dave's final months."
In March 2019, Dave was admitted to a hospice for end of life care. Monty was due to be taken in to visit Dave a few days later, however, sadly, Dave deteriorated more quickly than expected. When Olivia realised Dave had only hours to live, she was determined to reunite Dave with Monty as promised.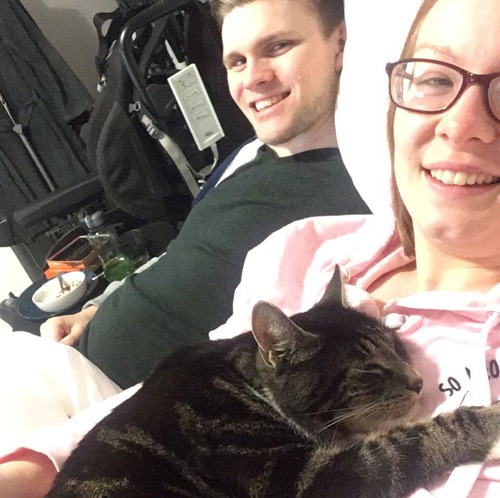 Dave, Olivia and Monty enjoying cuddles 
"I rang my mum at 5am and told her Dave didn't have long. She brought Monty straight in to the hospice and he curled up on Dave's chest, calmly licking his paws and simply being there for Dave in the wonderful, tender way he always was. That day was beyond heart-breaking, but I take comfort in the special memory of our little family trio being together at the end of Dave's life."
Since Dave's death, Monty has continued to offer Olivia much-needed comfort and support.
"In the first weeks after Dave died, I found it too painful being alone," she said. "I tried to surround myself with people as much as possible, but during the times that couldn't happen, Monty was always there and gave me a reason to get out of bed. To this day, he brings me so much comfort and affection. If I need a cuddle and a cry, I can scoop him up – he loves it! I also talk to him about Dave – his daddy – regularly. I can't put into words how much Monty helped Dave, and how much he has gone on to help me.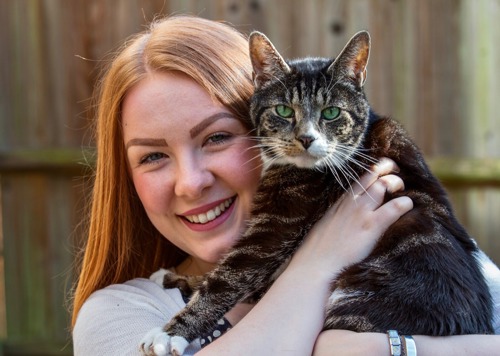 Monty has helped Olivia cope with life without Dave
"Monty is an older boy, and while I have a feeling he'll be cuddling and swiping pizza for many years yet, there will of course come a time when the inevitable happens, which will be heart-breaking. Not only is he the best cat in the world, but he's also a tangible connection to the amazing life I shared with Dave. To know that Cats Protection offers Paws to Listen, a grief support service, is very reassuring. I can imagine it'd be a lifeline for someone like me."
If you have experienced your own unforgettable feline friendship and are struggling with the loss of an adored pet, we're here for you. You can call our free and confidential Paws to Listen phone line on 0800 024 94 94, email us at pawstolisten@cats.org.uk and find lots more advice and support at https://www.cats.org.uk/what-we-do/grief