Meet just a few of the homeless black cats in our care looking for new owners.
We have between 5,000-6,000 cats and kittens in our care at any one time and sadly black cats are often left behind, spending a week longer waiting for a new family to adopt them.
Fluffy
Just one of those cats currently looking for a home is three-year-old Fluffy, pictured below, who is in the care of our Tenterden & District Branch. He's a handsome boy who came from a former breeding home. He is a very sociable and confident cat, and would be perfectly suited for a family household.
If you live in the area and think you can offer Fluffy a loving home then please call the branch on 01797 366 379.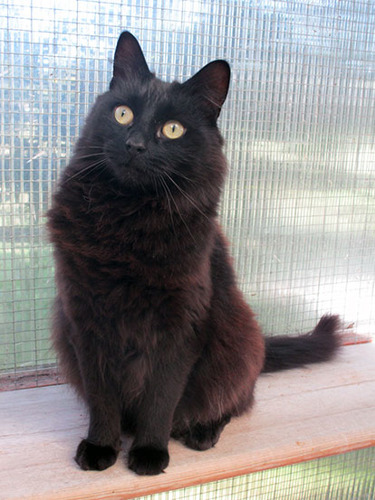 Fluffy
Boots
Boots, previously a stray, is now waiting patiently to be adopted at our North Ayrshire Branch. Volunteers haven't been able to trace her previous owners. She has a lovely friendly nature, is only about a year old, and would make a great family pet. Boots would like access to the outdoors once she's settled in and she is easy to care for, so would be perfectly fine for people that are new to looking after cats.
If you live in the North Ayrshire area and think you can offer Boots a loving home then please call the branch/centre on 0345 371 4218.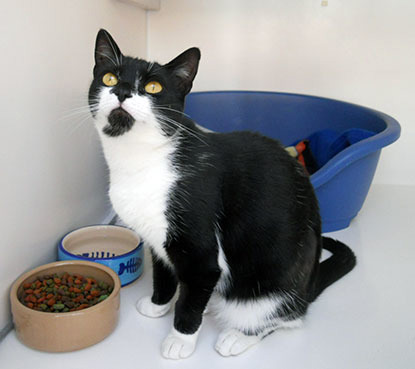 Boots
Frizzle
One-year-old Frizzle, pictured below, arrived at CP's Hemel Hempstead & Berkhamsted Branch with her siblings and very young mother, who have now all been rehomed. She has taken a while to gain her confidence but has progressed significantly since her arrival. Frizzle is quite feisty-minded, and would need to be given the time to relax and come out of herself – it will not happen overnight, but the rewards will be numerous. She would be quite able to cope in a household with children and other cats, but ideally not babies or toddlers.
If you live in the Hemel Hempstead and Berkhamsted area and would be interested in meeting Frizzle please ring 0345 371 1851.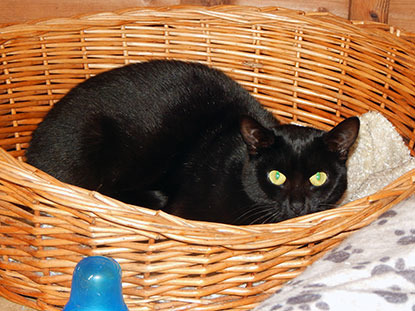 Frizzle
To see other cats in need of homes in your area, please visit our adopt a cat page.