Nominations open for National Cat Awards 2019!
Every year Cats Protection searches for extraordinary tales of the nation's remarkable felines and 2019 is no exception.
Entries are now open for this year's National Cat Awards and you have until noon on Friday 8 March to nominate your cat for one of five categories – so you need to be quick!
The categories are:
Hero Cat – Cats that save the day
Most Caring Cat – Cats that positively impact a person's health or wellbeing 
Furr-ever Friends – Tales of friendship between children and cats 
Outstanding Rescue Cat – Fabulous felines adopted from animal charities 
PURINA® Better Together – Celebrating the special bond that has transformed and enriched the lives of both a feline and human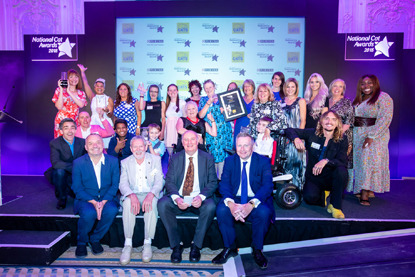 All of the winners and judges at the 2018 National Cat Awards - Credit: Ciaran McCrickard
The awards are sponsored by PURINA® and a panel of celebrity cat-lovers will have the difficult task of selecting winners. The winning cats' owners will then be presented with their trophies at a star-studded ceremony at London's Savoy Hotel on Thursday 8 August – fittingly coinciding with International Cat Day.

The overall winner will inherit the title of National Cat of the Year from Theo, who helped his owner Charlotte Dixon survive a potentially fatal blood clot.
Theo followed in the paw prints of a long line of feline heroes honoured by Cats Protection. They include Genie, who helped schoolgirl Evie Henderson battle bone cancer; Tink, who saved her owners from a house fire, and Jessi-Cat who was celebrated for helping a seven-year-old boy cope with Selective Mutism.
Broadcaster and writer Andrew Collins, whose own cat Gerry was previously a stray, will be one of the panel of celebrity judges selecting the National Cat of the Year. He said: "Cats make a house a home and whatever stage of life they join you, it improves everything. The National Cat Awards honour acts of extraordinary bravery, empathy and loyalty. Humans are lucky to be chosen and adopted by cats of all ages."
To find out how to nominate your cat for the 2019 National Cat Awards, visit https://www.cats.org.uk/nca
For a recap of what happened at last year's star-studded ceremony, check out our post:
2018 National Cat Awards: The best quotes from the event 
To hear more about what Andrew Collins thinks of the National Cat Awards, read his guest blog: That's not my cat!