Cat lover commits to walking one million steps in a fundraising challenge for his local branch.
Cat lover Paul Willis has pledged to walk an incredible one million steps in just three months to raise money for Cats Protection's Scunthorpe Branch.
Starting in July, he will walk around 11,000 steps a day (equal to around five miles) and by September hopes to have walked 460 miles in total – that's almost the equivalent of walking from London to Aberdeen!
Paul decided to take up this challenge after adopting his adorable cat Pebbles from our Scunthorpe Branch in February 2018.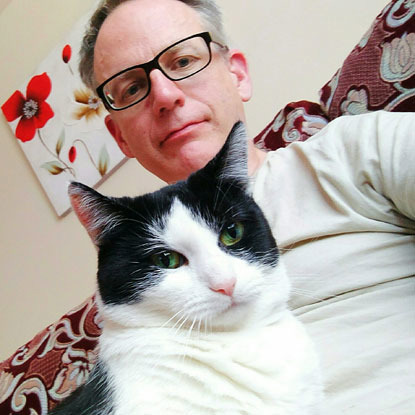 "After I separated from my wife last summer and moved into my own place it was always my intention to have cat once I'd settled in," explained Paul. "I much prefer cats to dogs as companions as they match my character more – independent, self-sufficient and low maintenance!
"I searched online for rehoming centres and discovered Scunthorpe Cats Protection. I went on their webpage and when I saw Pebbles I was immediately struck by her black and white markings and piercing green eyes.
"She has settled in really well and certainly lets me know exactly what she wants! We have been sharing a home now for nearly four months and she is great company. She is always sat waiting for me when I get home in the evening, wanting a stroke and some food.
"The idea for raising money for Cats Protection came from a previous walk I did last summer for Cancer Research. I walked 10,000 steps per day during June last year and raised about £150. This year I wanted to do something similar to challenge myself, as I'm not generally one for exercise!"
All of the money Paul raises will make a real difference to the lives of more cats like Pebbles. Cats Protection helps around 200,000 cats and kittens every year through rehoming, neutering and educating the public about cats' needs.
If you would like to sponsor Paul and raise much-needed fund to care for unwanted cats and kittens, visit his JustGiving page.
To find ideas and support for hosting your own fundraising challenge for Cats Protection, click here.