The timid cats that came out of their shells with their new owners.
Kittens Mishy and Murphy – sister and brother – were found living in a garden. The black-and-white cats were nervous when they were brought into Cats Protection's Haslemere Adoption Centre in Surrey.
While Mishy and Murphy were well looked after at the centre, their timidity meant they were passed over by potential adopters.
A few weeks after they arrived at Haslemere, Kelly Mowatt visited the centre to look for an unusual birthday present for her husband Alan. Experienced cat owners, the couple had lost two of their feline friends the previous year and Kelly thought she'd surprise Alan with another cat.
"I wanted a cat who was in desperate need of a home," says Kelly. "CP was recommended by a colleague and Haslemere was just down the road from us."
She says: "Mishy and Murphy stood out because they were the timidest – huddling together, nervous, flinching when you tried to pet them." 
Kelly and Alan had succeeded with their two formerly-nervous rescue cats Tripod and Pickle so the challenges ahead didn't bother her.
While Kelly had planned to just adopt one cat, Mishy and Murphy came as a pair so she agreed to take them both on!
The cats went home with Kelly in February, and were very nervous to begin with and hid, which is a natural behaviour cats express when they feel uncertain. Kelly and Alan kept Mishy and Murphy in the back bedroom at first so they could explore their new home gradually.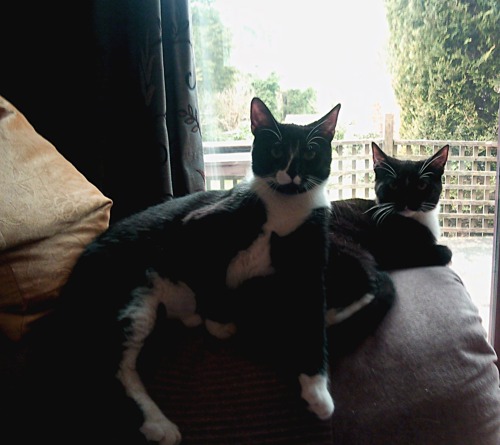 Mishy (right) and Murphy have gradually settled into their new home
Over the next three weeks, the couple spent lots of time talking gently to the cats and coaxing them out of their shells with the help of some tasty food. Mishy and Murphy began to respond and bond with their new owners.
The cats have come a long way in a few short months.
Kelly says: "They are very happy, playful cats.  We still have a long way to go and it's very much on their terms…but they are now 'talking' to us with meows, chirrups and purrs."
Mishy and Murphy like to chatter to the birds and squirrels outside from behind the patio window, while Murphy has discovered that if he continually jumps on and off the bed, his owners will eventually give in and get him breakfast!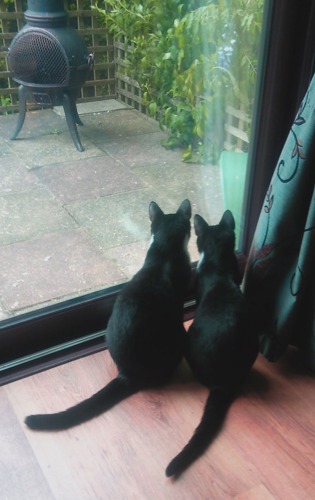 The cats like to chatter at the birds on the patio!
To support the work of our Haslemere Adoption Centre, just click here.
Want to read more about living with shy and nervous cats? Then click here.