When Gail's beloved cat Buttons passed away, she turned to Cats Protection grief support service for help
In 2012, Gail Allen visited a local adoption centre looking for a new feline friend and she got more than she bargained for.
"I had my heart set on a single ginger kitten – but us cat lovers know that the cat chooses the owner!" said Gail. "We walked past an apparently empty pen, but then I heard the sweetest little 'meow'. I turned around and there was Buttons, amber eyes glowing with a desperate need to be loved that matched my own."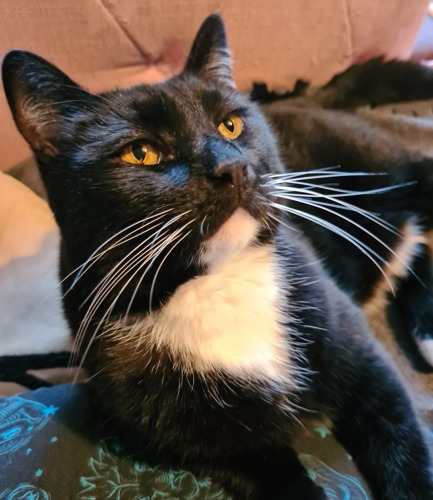 Buttons was the purrfect match for Gail
With Buttons also came another tuxedo cat called Butch. The two had a close bond and so needed to find a home together. "I went around the other side of the pen to see Butch and he greeted me with head bumps and such a soothing, calming presence. I just knew these were my boys. It was love at first sight."
Gail, Buttons and Butch stuck together through a divorce, house move and Gail starting a new job at Cats Protection, but then in 2019, disaster struck. "Buttons, who was the clumsiest, least graceful cat I have ever met, had an accident, a slipped disc injury which left him with a paralysed back leg and needing crate rest for a month. He recovered the use of his leg but always had a limp and couldn't jump too well after that, but he was still the most affectionate, loving cat who would barely leave my side."
Button's became Gail's constant shadow, joining in on video calls with her colleagues throughout the first two lockdowns, until in February 2021, a month after his 9th birthday, he sadly passed away.
"I was watching TV and suddenly heard a scream. I'd thought maybe another cat had got into the flat and Buttons was fighting. I got up to see what was happening, and saw Buttons on the way to his food bowl, but something wasn't right at all. It was very quick, and over before he knew what was happening. I like to think that I made it out there in time for him to feel me next to him.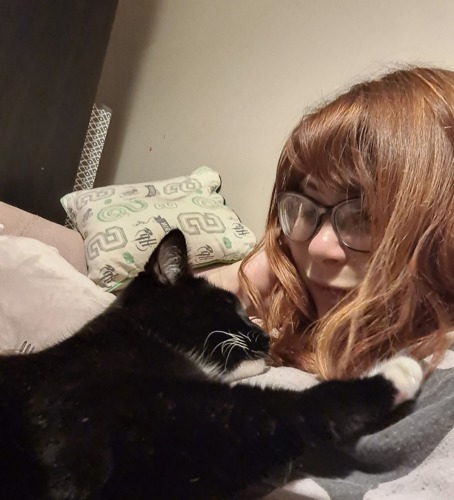 Buttons and Gail had a close bond 
"I was distraught like never before, and in such shock. He wasn't ill, wasn't old, and the only problem he had was his limpy leg and irritable bowels (bless his heart, he really did take after me!). It was 9pm on a Wednesday evening, and my neighbour took me and Buttons to the nearest 24-hour vets.
"The whole journey I was convincing myself that he was ok, he had to be ok. The nurse didn't even really have to look at him to know he was gone. The next day, I called up the vets again to ask them to check he wasn't just in some sort of coma, that he was definitely gone.
"I got a post mortem and toxicology report done, because I felt knowing the cause of death would somehow help me. Nothing showed up, and the vets think it was most likely a blood clot that came out of nowhere. It's called 'sudden death'."
Gail struggled with the sudden, unexpected loss of her beloved friend, and so took some time off work and got in touch with Paws to Listen, our free and confidential grief support service that lets you talk to trained volunteer listeners who can offer a sympathetic ear.
"It's difficult to put into words how much it helped me to talk to someone who really understood what I was going through. So many people, family members included, said or acted like Buttons was 'just a cat'. He was my family, my boy, and had been so close to me for seven years. The Paws to Listen service were able to help me make sense of what had happened and stop feeling so guilty. I had convinced myself it was somehow my fault, and I'd been a bad mum to Buttons. But now I know that he had the best life possible with me and I did everything I could for him, for both of my boys. You only need to look at photos to see the love in his eyes.
Buttons was Gail's constant shadow until the end
"It made such a difference working for Cats Protection and dealing with my grief for Buttons. My colleagues have been so understanding and have really helped me through this year. Sadly, my year of grief snowballed as I lost my dad in March, equally unexpectedly and suddenly. But what I learned from the Paws to Listen service has really helped me through both losses.
"I think the most valuable thing I have learned is that grief is the price we pay for love. I feel such powerful grief because I have been lucky enough to feel equally powerful loves in my life. The pain will never go away, but it becomes easier to bear, and easier to call upon good memories that fill you with love and warmth.
"I like to think that my dad and Buttons are both watching over me, with a cup of tea and some biscuits – which Buttons would snaffle up, he was a little monster for anything crumbly."
Susan Anthony is a volunteer for our Paws to Listen service and finds it very rewarding to help those struggling with the loss of their cat.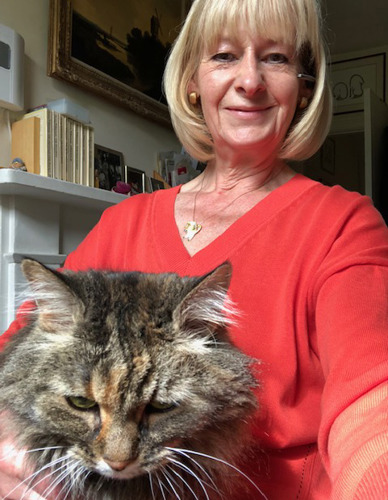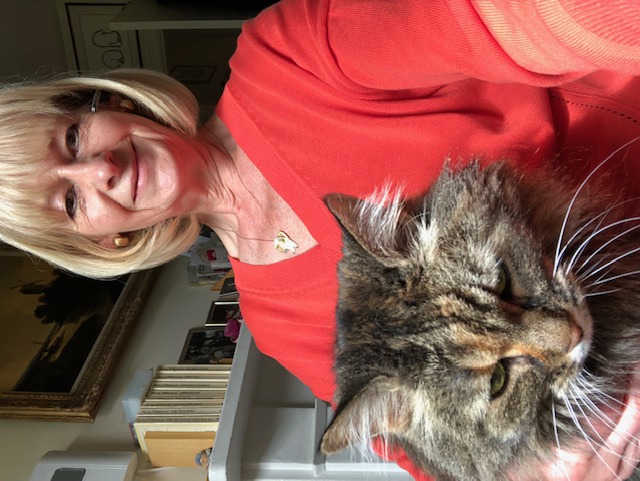 Paws to Listen volunteer Susan with her hard-working assistant Tabitha 
Susan has been volunteering for Paws to Listen since 2017 when she was made redundant and found herself looking for something worthwhile to do with her spare time.
"I have been through the awful experience of losing a much-loved cat a few times myself and wanted to be there to help others in a similar situation," said Susan.
"After many years working in the city of London, which can be a greedy and cruel environment, I thought about retraining as a counsellor. Then I came across Paws to Listen and realised volunteering for the service was the perfect solution – a way for me to change course and give something back.
"It is sometimes upsetting hearing people who are in distress, but knowing that I can help just by being there and listening in an understanding way is very rewarding."
Cat-loving entrepreneur and TV personality Deborah Meaden supports the Paws to Listen service.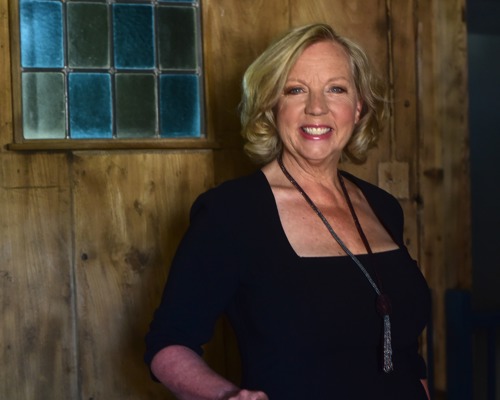 Dragon's Den star Deborah Meaden supports Paws to Listen
"Anyone who has pets knows that one day you are going to lose your beloved creature," said Deborah. "I lost a very dear cat and it amazed me quite how devastated I was, and for just how long I was devastated about a little being that was in my life all day every day and, even if I didn't really register that he was there, he was always around. The emptiness that you feel that they're not in your house anymore, they're not in your life anymore, even now I sometimes feel I catch a glimpse of him and I think oh no, he's not here. So I think it's really important that people recognise that grief and there is actually somewhere to go with it.
"Sometimes you feel a little bit silly talking about your cat and your grief so I feel that the Cats Protection Paws to Listen service is important because it means you can pick the phone up to somebody who understands and who can offer you some support and who can be sympathetic with the way that you feel. That is really important and needed in those times."
Find out more about our Paws to Listen service, including lots of practical information and support on making difficult decisions and coping with pet loss. Paws to Listen is supported by players of People's Postcode Lottery, who since 2018 have raised £3.5 million for Cats Protection.