Another chance of a happy home for Pearl.
This post has been written by Brenda Greysmith, volunteer cat fosterer at Cats Protection's Torquay Branch
Just occasionally a Cats Protection rehoming doesn't take. This was the unfortunate situation with Pearl. As a pregnant stray, she'd come in to another fosterer in early 2015, been cared for as she gave birth to four healthy kittens. When the kittens were weaned and mum neutered she went to a new home. But unexpected things happen and her new owner's circumstances changed, so the branch was asked if they could find another new owner.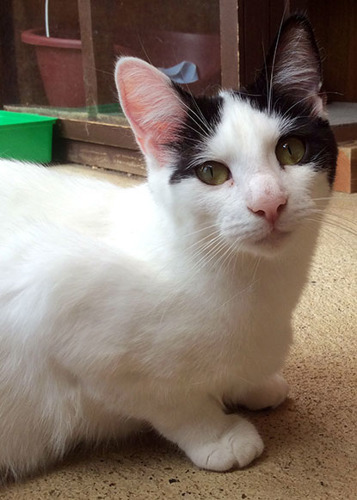 Beautiful Pearl has been given a second chance at a happy home
Pearl was an adaptable soul, used to being in a pen and meeting different people, so she settled in within minutes and was soon jumping up on our laps. It can be very relaxing sitting in the garden pen in the company of a friendly cat – and she was certainly that.
As she had been chipped and neutered when previously in CP's care, there were no vet visits to schedule. And as she was so loving and laid-back, we had a few weeks of just routine feeding, cleaning up and providing company till we could find her a new home.
Then the ideal owner contacted us – a retired lady at home all day. Her cat had recently died and she missed the companionship. As soon as Pearl arrived she was playing with the cat toys, cuddling up on the sofa and in seventh heaven.
For more information on the work of the Torquay Branch of Cats Protection visit their website: www.torquay.cats.org.uk
This post was originally shared on the Torquay Branch's blog: https://catpenblog.wordpress.com