Can you vote for our amazing volunteer and fundraiser so they can win £1,000 to help the cats and kittens in our care?
Cats Protection helps around 200,000 cats across the UK every year, but we couldn't do all of this vital work without the funds raised by our fantastic supporters.
One of our dedicated Cat Champions, Dan Merton, not only donates his time as a volunteer for our Horsham and Brighton & District branches but also completes gruelling challenges to raise money for the cats in their care.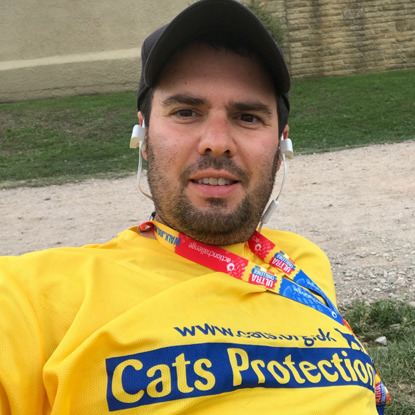 Dan Merton is a true Cat Champion
It's not just us who recognise his heroic efforts, the company he works for is also celebrating his charitable work by nominating him for an award. If he wins, Dan could receive an extra £1,000 from the company, which will go directly towards helping unwanted cats and kittens.
We spoke to Dan to find out more about his love for cats and how you can help him win the extra donation…
Can you tell us about the cats you have at home now? 
I have three with my wife at home and they are called Missy (black-and-white), Britney (tortoiseshell) and Cherry (tabby-and-white). They get spoilt rotten and our home would feel empty without them around.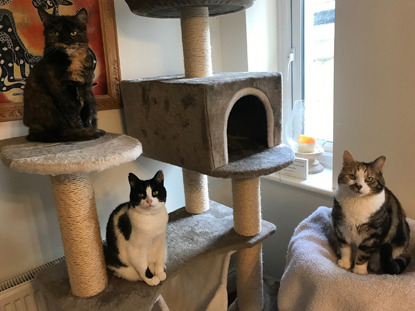 From left to right: Britney, Missy and Cherry posing for the camera
Why did you decide to volunteer for Cats Protection? 
I wanted to help cats not as lucky as our own find a new loving home so I started volunteering for the Brighton Branch from April 2018 when I noticed they had a vacancy for a website editor in their publicity team. As I work in the local area I thought it was an opportunity not to be missed as it utilises the skills I have in my normal day job at Legal & General and I get to do something more exciting involving cats.
What does your volunteer role involve? 
I update the Brighton Branch's website with our local cat adoptions, news, education pieces and events. I also help the publicity team with Facebook updates. I have a variety of stories to add over a couple of hours a week. I love being involved and getting to read all the great rehoming stories, plus I get to work with a team of like-minded individuals who love cats.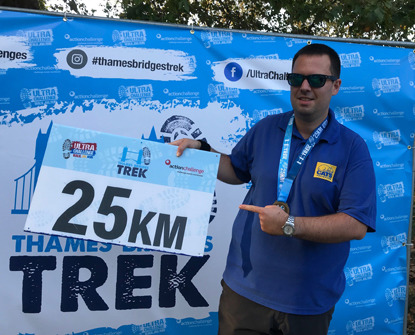 Dan has so far completed three challenges for Cats Protection
What inspired you to complete your first fundraising challenge for Cats Protection? 
In October 2015 I broke my ankle quite severely in an accident and I spent four months at home in pain, unable to do much with just the cats for company when friends and family were not available to help out.
Missy (our black-and-white cat) was always by my side or on my lap to keep me going. When I was on crutches she even came on walks with me until I recovered and I will always be grateful to her for that. We already had a close bond but this bought us even closer together.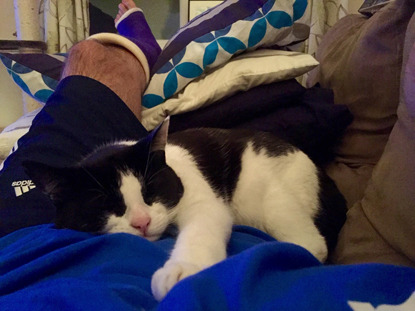 Missy helping Dan recover from his ankle injury
I decided to take part in these challenges to improve my fitness as I'm still unable to run or do high impact exercise so walking is the next best thing. I also get to raise some much-needed money for the Horsham and Brighton & District branches.
What are some of your most memorable fundraising challenges? 
My greatest achievement to date is completing the Thames Path 1st Half Challenge in September 2018. This involved me walking 31 miles in one day and took me around 16 hours to complete raising £1,215. In total to date over three consecutive challenges I have raised £3,500 and walked 60 miles. I love seeing the money I raise help the two branches and all the cats they rehome. I also hope my fundraising and volunteering inspires other cat dads out there to get involved too.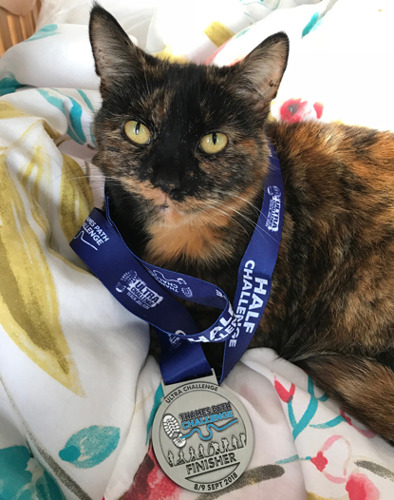 Britney sharing Dan's Thames Path victory
Do you have any top tips for people wanting to fundraise for cats?
As I work for a large company I'm lucky enough to claim employer-matching contributions whenever someone sponsors me for these challenges so that helps boost the kitty every year.
It's amazing to be recognised as a finalist for being one of the top charity fundraisers in my company and championing Cats Protection.
People can still vote for me by midday 25 February to be in with a chance of winning a £1,000 donation to Cats Protection. All you have to do is visit www.legalandgeneralgroup.com/awards/2019 and select my story under the 'Charity Fundraising' section, then submit your vote!
Do you have any plans for future challenges?
I'm doing the 25k South Coast 1st Quarter Challenge on 29 August 2020 to raise money for the Horsham and Brighton & District branches in memory of Bonzo, a grey-and-white tabby cat who we sadly said goodbye to aged 16 years old in October 2019. This year's target is £1,000 so if anyone would like to sponsor me please visit my JustGiving page.
To find out more about fundraising for Cats Protection, visit https://www.cats.org.uk/support-us/events