Rare kitten born with dwarfism finds the purrfect home
A black-and-white kitten who captured hearts with her tiny stature caused by a rare form of dwarfism has found her perfect home. 
Little Toothless, now named Mowzer, arrived at Cats Protection's Cornwall Adoption Centre with her littermates after being born to a feral mother on a farm near Penzance.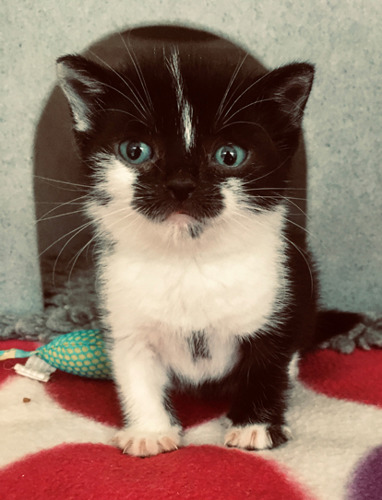 Mowzer the kitten at seven weeks old
Covered in fleas and suffering from an eye infection, she was meant to be seven weeks old but, unlike her siblings, appeared closer to the size of a three-week-old kitten. 
In addition to being visibly much smaller than the others, the team at the centre noticed she also looked out of proportion, with shorter legs than usual.
During a health check, it was noted that she still had very blue eyes and had not yet grown teeth. At seven weeks her eyes would normally have changed colour and she should have had a full set of baby teeth. 
Can you help Cats Protection's Cornwall Adoption Centre to look after cats and kittens like Mowzer? Text CORN to 70577 to donate £5.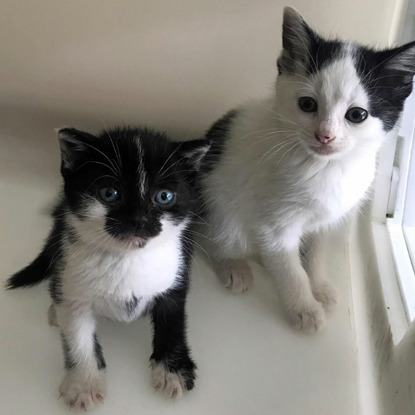 Mowzer next to one of his littermates who is the same age
Her appearance inspired the names for the whole litter. She was originally called Toothless, from the film How to Train Your Dragon, and her littermates were named after fellow characters; Astrid, Rough Nut and Velkra. 
Now she has been named after another famous feline, Mowzer from The Mousehole Cat by Antonia Barber.
A big personality for such a little cat
"Mowzer very quickly enchanted everyone at the centre," said Cat Care Assistant Kirsty Balcombe. "For such a little cat, she has a massive personality. She was very determined and tried her best to keep up with her brothers and sisters. 
"Their pen needed some adjustments for her, as her tiny legs couldn't reach the ramp to move between the levels of the pen or the cat flap, so extra steps where put in so she could do everything herself.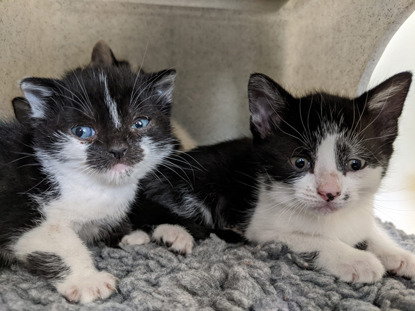 Mowzer with another of his littermates
"Mowzer could only be described as adorable. It was impossible not to stop and watch when we went past her pen. She was extremely affectionate and loved rolling around and nuzzling people's feet. 
"She was also very entertaining when she ran around her pen as her legs didn't really match up with her body but she never let it hold her back, she was just extremely lively and cute."
At 12 weeks old, 22cm long and weighing 750g, the weight she should have been when she first arrived at the centre, Mowzer went to her new home in Carbis Bay with Dawn Eddy. She had also just begun to meow which she had not done previously.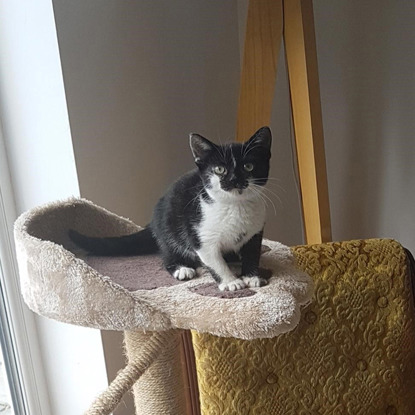 Mowzer in his new home. Credit: Dawn Eddy
Dawn said: "Mowzer has now been with us for just over three weeks and my daughter chose to change her name from Toothless to Mowzer because, like The Mousehole Cat, she's so strong and very special. 
"Mowzer is still under a kilo in weight but certainly has the heart of a lion. She likes to protect the top of the stairs like a gatekeeper, and she still chases our feet but luckily her paws are very soft and her front teeth are yet to emerge. 
"Her latest challenge is trying to master the feeling of grass under paw, and when she's finished exploring for the day she loves to fall asleep on people's shoulders at the base of your neck."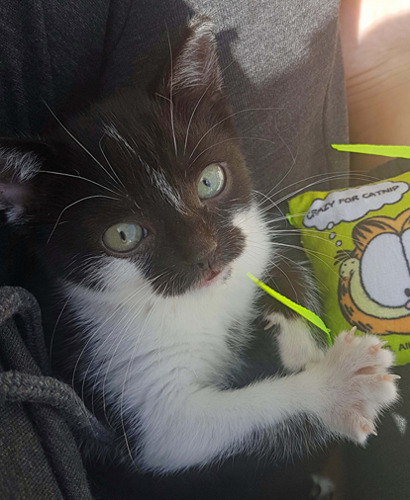 Mowzer settled in for a cuddle. Credit: Dawn Eddy
Feline dwarfism, also known as osteochondrodysplasia, is extremely rare and tests for it are often inconclusive, although famous cats Lil BUB and Grumpy Cat were both diagnosed with the condition. 
Only one parent needs to pass on the gene for it to develop and, as in Mowzer's case, not all kittens in a litter will inherit it. 
At the moment Mowzer has not been affected in any way except in the appearance of her legs, however some cats with the condition are born with disproportionate features, a curved spine or a bow-legged posture. 
The centre team advised Dawn that Mowzer will probably always stay small for her age and perhaps continue to develop later than would usually be expected. 
She will also need to be monitored in case she develops any mobility issues, although it is likely that simple adjustments to help Mowzer use steps or make jumps are likely to be all she will need. 
Dawn added: "My daughter recently broke her elbow and having Mowzer has brought her great comfort and so much joy to our house. 
"We are keeping an eye on her back but she is slowly but surely growing well. Her meow is still small and squeaky, however, she is beginning to purr and it's glorious. 
"Adopting her was such a delight, we recommend to anyone to open their home to a new feline friend even if, like Mowzer, they're a little bit complicated and might need a bit more support."
If you would like to welcome a cat into your home, visit www.cats.org.uk/adopt-a-cat to find felines ready for adoption in your area. 
If you would like to support Cornwall Adoption Centre to continue their work caring for local cats and kittens like Mowzer, text CORN to 70577 to donate £5 to the centre (full terms and conditions can be found at https://www.cats.org.uk/terms/sms-terms).