Dawn Osborne completed her fundraising challenge despite suffering the aftereffects of coronavirus
With just a week to go before cat lover Dawn Osborne was due to take part in the London Landmarks Half Marathon to raise money for Cats Protection, she thought she might have to put her fundraising challenge on hold.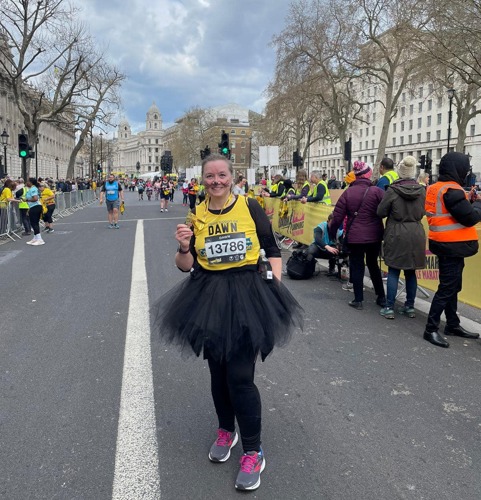 Dawn reached the finish line of the London Landmarks Half Marathon
"Unfortunately I had COVID-19 a month before the half marathon which stopped me training for a couple of weeks and I had it quite bad," said Dawn.
"I was worried as I was only three weeks clear of COVID-19 and was experiencing trouble with my breathing and getting very breathless and feeling very fatigued.
"To top it all, a week before the event I pulled a muscle in my back and couldn't even jog 50 metres! I was really worried by this stage and was resting as much as I could to try to get better. I don't give up very easy, it just made me more determined to get to the finish line!"
Luckily, by the time race day came around, Dawn felt well enough to take part, and managed to complete the distance.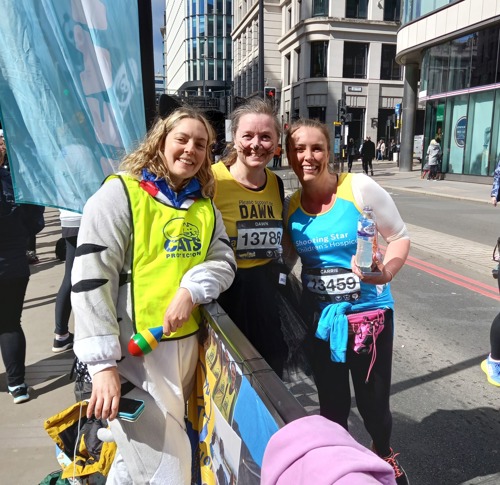 Dawn with the Cats Protection support squad en route
"I felt a huge sense of achievement and relief when I crossed the finish line because I had missed so much training due to COVID-19 and my muscle injury," said Dawn. "I wasn't sure if I would finish but I was determined and I did!"
Dawn raised over £650 from sponsorship for her run, an incredible amount that will go towards helping us care for cats and kittens while they wait for new homes.
"I was so pleased to have smashed my target, said Dawn. "I am a massive cat lover who has had a few rescue cats so I decided straight away I wanted to support Cats Protection.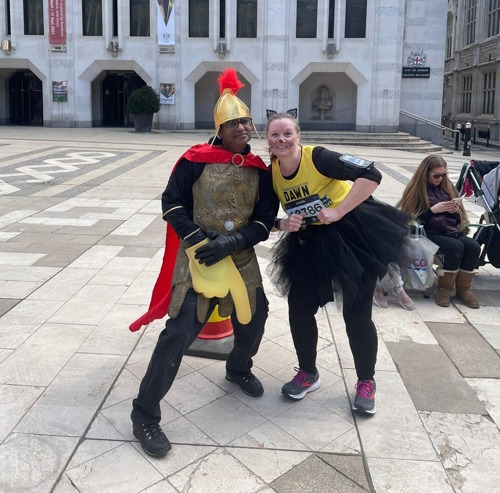 Dawn making friends along the route
"I decided to sign up for the London Landmarks Half Marathon because I just about managed to complete the London Marathon last October! I thought it would be nice to have a half marathon medal so decided it had to be the London one to go with the London Marathon medal.
"The best thing about participating was knowing I was helping the cats by raising money for them, and the atmosphere was fantastic with so many people encouraging you all the way. The entertainment was amazing, it certainly helped me to the finish line. Another thing that really cheered me up on the day was being sung to by a rapper as I ran by!
"The worst thing about the run was afterwards having to climb all the steps on the underground, because my legs hurt so much!"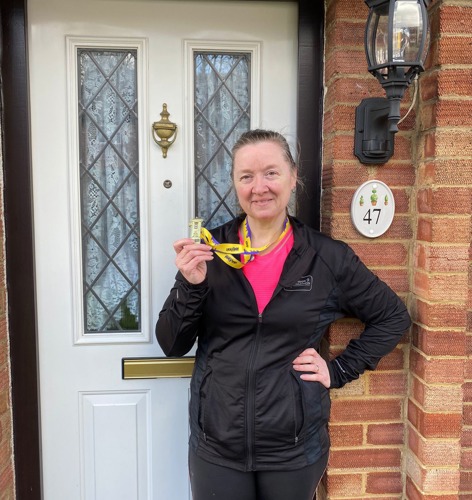 Dawn with her race medal
If you would like to challenge yourself to take part in a half marathon to raise money for Cats Protection, we have places available in several events taking place across the UK.
To find out more and reserve a place, check out our fundraising challenge events.