Blind Puss is now thriving in her new home after being treated for a painful eye condition
When 10-year-old Puss was signed over to Cats Protection's Bridgend Adoption Centre due to a change in family circumstances, she was suffering with a condition called keratitis.
This was causing Puss severe pain and discomfort and had resulted in an almost total loss of sight.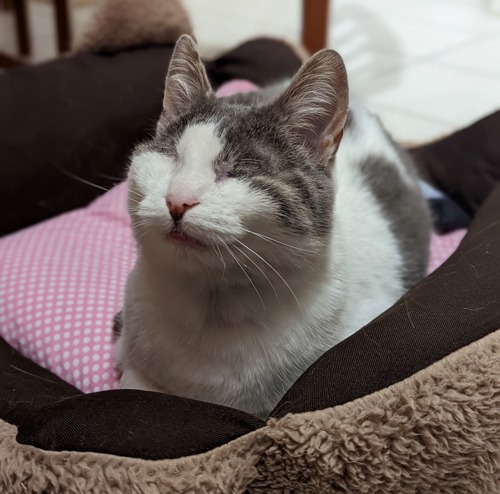 Several treatments were tried to help manage this but when none were successful the decision was made to operate to remove both of her eyes, to improve her quality of life. 
"This was one of the hardest decisions I have been faced with in my role at Cats Protection," said Centre Manager Sue Dobbs.
"I needn't have worried so much though, as it was absolutely the best thing for Puss. She astounded us all with how quickly she recovered!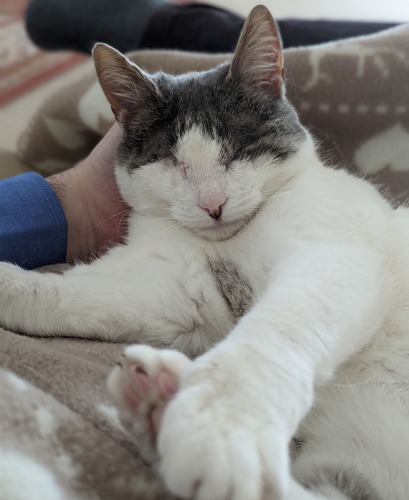 "Two days after surgery she was playing with her toys and it's been full steam ahead since then. She was like a different cat in personality, much happier and more content once she was no longer suffering from the eye pain she had been experiencing.
"I'd like to say a huge thank you to players of People's Postcode Lottery, whose generous support helps us to care for cats like Puss until we can find new homes for them."
Puss' care was kindly supported by players of People's Postcode Lottery, who have raised over £4.8m for Cats Protection since 2018 to help support our work across England, Scotland and Wales.
Once Puss had made a full recovery from the operation, she was soon adopted by Jo.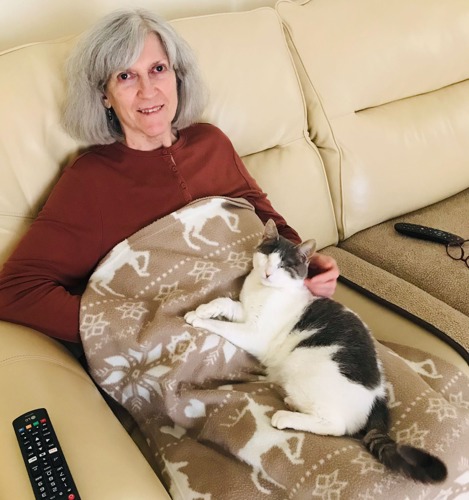 "Puss settled in with us brilliantly and is now a key member of our family," said Jo.
"Any concerns we had about adopting a blind cat disappeared as soon as we brought her home. She's adjusted incredibly well to being blind and seemed to have mapped the entire downstairs of quite a big house very quickly.
"She has such an affectionate character, enjoys playing with her toys and is very chatty at mealtimes.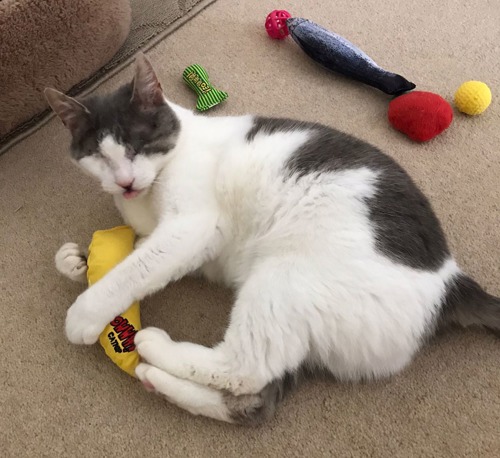 "I would really love for anyone looking to adopt a cat to consider an older one or one with specific needs. They can be so rewarding and, in my experience, bring such joy to the household."
Find help and advice on caring for cats with disabilities.
To find cats looking for homes in your area, visit our adoption guide.