We meet Sara Ford, who has been volunteering for Cats Protection for over 30 years!
As it's Volunteers' Week we're taking the opportunity to thank all of our volunteers, present and past, for their support and the difference they make to the lives of thousands of cats and kittens each year.
Volunteers like Sara Ford make a huge contribution to the charity. Sara has been volunteering for Cats Protection for over 30 years – read her story below.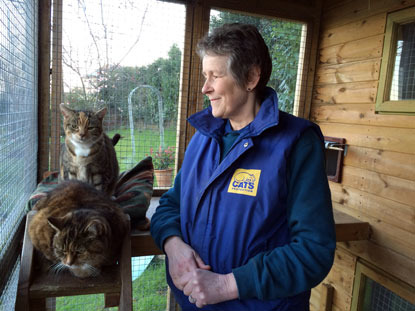 "I was transferred to London with my job in 1986 and saw a promotional stand advertising for volunteers in Ealing Broadway with the object of starting a branch in that location. I had only just moved to London and knew no one. It seemed an opportunity to get to know some people locally.
"My current role as Co-ordinator and Fosterer for Forest of Dean Branch requires ensuring that all aspects of what we do are going smoothly and that everyone is kept informed about matters that concern each individual volunteer in the role that have taken on for CP. This includes making sure the Helpline is transferred to the daily volunteer and she is made familiar with any ongoing situation so can deal with it appropriately.
"My first task is cleaning and feeding the cats in my care. There might follow a trip to the vet with one or more cats I am currently fostering. I may then go out to carry out a home visit in my area or to check out a feral colony or a stray cat that has been reported to us. If I am at home, I might be contacting or responding to enquiries from the public, vets, the local press, other fosterers.
"I also write our branch newsletter to raise awareness of what we do with our local members and hopefully raise support within our local community. The evening brings the day's messages from the Helpline volunteer which must be responded to promptly. The volunteer and I will often share this responsibility so that the public will have an answer to their enquiries on the same day. Again, ensuring other volunteers are kept in the picture is essential so emailing the daily information around the branch is a necessary job so everyone remains involved and up to date with matters that concern them.
"I have organisational and administrative experience which has been a useful training for CP. I also had a cat as a child and loved her though I wince at the ignorance about cats that we had in the '50s!
"Why did I choose to volunteer for CP? No idea! I like cats and I like to help out in an area where I can use the skills I have. I intensely dislike cruelty and suffering in animals who can do little to improve their own situations.
"Volunteering is a way of life for me and I don't think of it as a 'donation of time'. My retirement time is as occupied as I want it to be and many of my closest friends are cat people. I enjoy being part of a team of people working towards the same end. I see the role of Co-ordinator as largely administrative and of equal importance to every other volunteer. It is purely that I enjoy and can do organisational and administrative tasks so that is the role I choose to contribute.
"To someone thinking of volunteering I would say: life is about quality of life not about quantity of money. If you can spend your days knowing you have made someone or something else's life better, you will sleep better and look forward to the next day. So if you care about cats and making their lives better, CP is the charity to join."
If you're considering donating some of your time to volunteer for Cats Protection, you can look for opportunities nearby at https://www.cats.org.uk/support-us/get-involved-volunteering