Cats Protection's Education volunteers help people to better understand cats and how to look after them.
Wesley Henderson is just one of our 10,000 volunteers who make a difference to the lives of cats around the UK. During Volunteers' Week this year, we're showcasing the different volunteering roles on offer and celebrating the contribution our volunteers make to the charity.
Wesley has been volunteering as an Education Speaker in Northern Ireland for five years.
"I have always been a confirmed cat lover and, growing up, I can remember all of the cats we had and the fun I had having that as part of my life," Wesley explains. "When I was working it felt like I was always too busy to do anything else. But when I retired, I made sure to get in touch with Cats Protection to offer my services. I had always been involved in public speaking so to be an Education Speaker seemed the perfect fit."
Wesley's role involves talking to schools and community groups of people of all ages to help them to better understand cats and their care.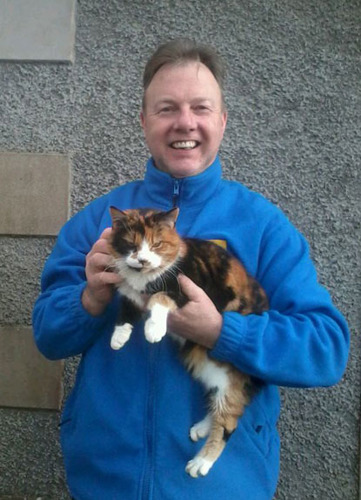 Wesley with his own cat, Kiwi
"Volunteering allows me to give something back – to contribute to the welfare of cats in some way. It gives me a great sense of fulfilment but I know it also means a great deal to the audience when they learn things they didn't realise about cats. I always think that if just one person thinks in a more positive light or more kindly about cats after I've left then I'll have done what I set out to do.
"There's nothing can prepare you for the positive rush that you get from doing your first talk," Wesley enthuses. "Not only do you feel a tremendous personal benefit but you also get to know that, through education and awareness, you are actually changing how people think about cats. The effect of that lasts a lifetime – and that's a pretty powerful thought to keep you doing it again and again!"
How can you make a difference? We've seen a huge increase in the number of education volunteers in the last five years, but we're always on the lookout for more! If you're thinking about donating some of your time, knowledge and skills to help us help cats in your local area and across the UK, you can search for an opportunity at https://www.cats.org.uk/support-us/get-involved-volunteering.