Our favourite cats in fictional books.
Cats have been the stars of many much-loved stories over the years, captivating the imaginations of adults and children alike.
To celebrate National Share a Story Month, we've put together a list of our favourite felines in fiction…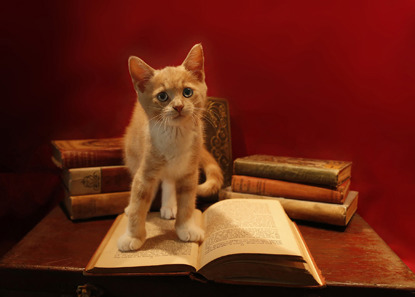 Macavity
You may know the mysterious Macavity from Andrew Lloyd Webber's smash-hit musical Cats, but he originally appeared in Old Possum's Book of Practical Cats by TS Eliot. This collection of cat poems was originally created for the enjoyment of Eliot's godchildren, but later became a best-seller. Macavity was just one of the book's feline stars, alongside Rumpleteazer, Skimbleshanks and Rum Tum Tugger.
The Cat in the Hat
At Cats Protection, we don't condone dressing cats in bow ties and hats, but for Dr Seuss' fictional feline we can make an exception. When this smartly-dressed moggy shows up at the home of Sally and her brother he entertains them with lots of mayhem, all told in marvellous rhymes.
Cheshire Cat
With his iconic wide grin, the Cheshire Cat is one of the many curious characters Alice meets in Wonderland, the magical world created by Lewis Carroll. As well as coming up with philosophical riddles to baffle poor Alice, he is also able to disappear at will, leaving just his trademark smile behind.
Tom Kitten
While Peter Rabbit may be her most famous creation, Beatrix Potter also wrote and illustrated The Tale of Tom Kitten in 1907. It tells the story of Tom and his sisters Moppet and Mittens as they get into all sorts of mischief while getting ready for a tea party, much to their mother's dismay.
Crookshanks
While there are many cat characters in the Wizarding World of Harry Potter, perhaps the most notable is Hermione's moggy Crookshanks. The ginger 'half-Kneazle' cat came in useful for sniffing out witches and wizards disguising themselves as animals, including Peter Pettigrew aka Scabbers.
Mog
Created by writer and illustrator Judith Kerr, Mog has been a favourite of children since the 1970s. In each story she always manages to get into trouble and is often baffled by the world around her. Although Mog sadly died in the final book in 2002, she was brought back for a Sainsbury's Christmas advert in 2015, much to the nation's delight!
Who is your favourite fictional feline? Let us know on Facebook or Twitter!