Too many cats are killed by air guns – we're campaigning for stricter regulations.
A survey of 1,000 vets carried out by Cats Protection has shown that many more cats are killed in air gun attacks than 20 years ago. Around half of cats shot by air guns die as a result of their injuries.
This alarming rise has led to a call on governments in England and Wales to make it a criminal offence to own an air gun without a licence or permit.
The survey showed that almost half of vets questioned had treated cats which had been the victim of attacks by air-powered weapons in the last year, with nearly half of these shootings proving fatal. The rise in fatal attacks suggests that more powerful air guns are being used. Injuries to the head and body are most common, with many cats left blind or partially sighted.

Cats Protection's Advocacy Manager Jacqui Cuff said: "The sheer volume of instances where cats are injured and killed by air gun attacks is very concerning.
"We are calling for much stricter regulation on the ownership of air guns, as we strongly believe this will help to protect cats and other animals from these shocking attacks, and avoid air guns falling into the wrong hands. We want to see England and Wales following the example of Scotland, where from next year it will be illegal to own an air gun without a licence."
Billy was left blind after an air gun attack in 2013. He was found with severe injuries in Lingfield, Surrey, by a member of the public and taken to a vet where X-rays showed he had been shot seven times.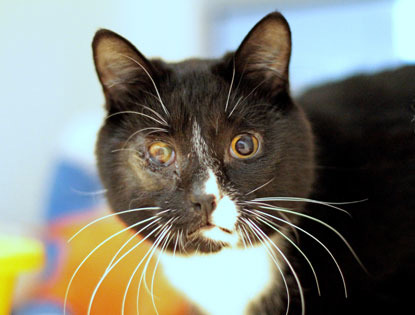 Poor Billy was shot by an air gun. Photo by Martin Dewhurst
He was looked after at Cats Protection's National Cat Adoption Centre in Chelwood Gate, Sussex.
Veterinary Officer Nathalie Dowgray said it was "a miracle" Billy had survived with such appalling wounds.
"When Billy was found, he had very serious injuries – to his head in particular – and as a result he is totally blind in one eye, and may only be able to see shadows with the other," she said. "He was severely dehydrated and wouldn't have survived for more than a day or two if he wasn't treated straight away.
"He had so many puncture wounds it was first assumed he had been attacked by another animal, but when we looked at his X-rays we could see his whole body and head were literally peppered with air gun pellets. We can see four quite clearly embedded into his skull.
"It was remarkable he survived the attack, and he must have been in agony for a number of days before he was found and taken to a vet."
The vet who treated Billy initially removed one or two pellets from his neck, but the others were so deep, particularly those in his skull, that it is not possible to operate and remove them.
Nathalie added: "This was a disgusting and inexcusable act of mindless cruelty inflicted on a defenceless animal. No creature deserves to be put through the agony that Billy went through during and after this attack."
Cats Protection will continue to raise the issue of air guns with politicians across the UK. If any cat owners have lost their cat to an air gun attack in the last six months we'd be grateful if they could send any details to campaigns@cats.org.uk so we can collect more evidence about the scale of these attacks.