How to become a charity shop volunteer – and some of the different roles on offer.
Thinking of becoming a volunteer for Cats Protection? Volunteering with a charity can be rewarding, enjoyable and bring with it a wealth of new experiences. You might be surprised to find, however, that not all of our volunteering roles involve looking after cats.
Are you a wannabe fashionista or merchandiser? Perhaps you're a keen book fan? Volunteering in one of Cats Protection's retail stores could be a perfect option, giving you the opportunity to showcase your skills while raising money for the cats in our care.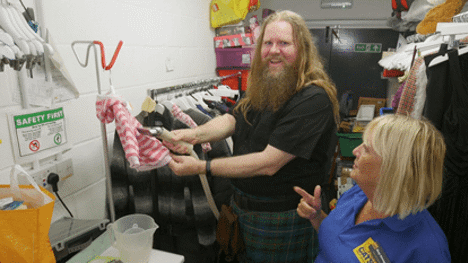 Best of all, you'll have the opportunity to give as much or as little time as you'd like – whether you fancy volunteering for a few hours a week or on a more frequent basis. Here are just some of the roles you can get involved with:
Book worm volunteer
Do you know your Stephen Kings from your Charles Dickens? Becoming a book worm volunteer involves pricing the books up ready for sale, as well as adding creative flair with shop displays. Delve into some of your fictional favourites – who knows what you might be able to sell?
Flair for fashion volunteer
There's nothing quite like a vintage charity shop find, and volunteering in our retail stores give you the opportunity to hone your fashion skills. Sorting out stock, pricing up items and creating attractive window displays are all part of the fun.
Manning the tills
If your passion lies in talking to people, manning the tills might appeal to you. It's the ideal way to get to know people in your community and even increase your confidence. Plus, you'll be content in knowing that the money from your sales goes straight to the cats.
Stocking the shelves
Whether you want to give visual merchandising a go, or prefer being away from the action while still meeting new friends, keeping the shelves stocked is an important part of being a retail volunteer. There's nothing quite like the pride of devising your own window display!
A day in the life of a retail volunteer
A day in the life of a retail volunteer can be varied and rewarding, offering the chance to meet new people and raise much-needed funds. Follow Greg in our video as he visits Eastbourne charity shop and some of the volunteers that keep the store running.
Want to volunteer?
For more information on becoming a volunteer with Cats Protection, visit https://www.cats.org.uk/support-us/get-involved-volunteering.