It's World Spay Day once again, a day where we team up with other animal welfare charities to promote the benefits of neutering – for cats and their owners.
Today marks the 25th anniversary of World Spay Day – but what is it and what does it mean to cat-owners?

World Spay Day happens annually, aiming to raise awareness of the importance of neutering or spaying pets. At Cats Protection, we're collaborating with a group of cat and vet organisations to raise awareness of the need to neuter your cat.

If you're a cat owner, you might already be aware of the importance of neutering. Cats are able to have kittens from very young, so we recommend neutering your cat from four months to ensure you aren't left with an unwanted litter.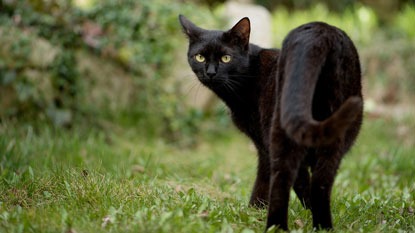 Has your cat been neutered?
If they haven't, you could put yourself at risk of unwanted kittens – they can be costly and difficult to look after.

The PDSA Animal Wellbeing (PAW) Report 2018 revealed that 9% of cats are not neutered, which equates to around 999,000 unneutered cats in the UK. Top reasons for not neutering a cat included:
The owner hadn't thought about it (24%)
The cat doesn't go outside (15%)
The cat is too young (15%)
If you want to know more about the importance of neutering, head to https://www.cats.org.uk/help-and-advice/neutering-and-vaccinations/neutering-your-cat


What is Cats Protection doing to help cat overpopulation?
As part of World Spay Day, the Cats Population Group is urging for owners to neuter their cat. This will help to reduce the amount of cats that are now being looked after in the care of Cats Protection and other charities. Currently, there are thousands of cats in Cats Protection's care – something that could well be avoided by neutering.

In 2017, Cats Protection neutered 153,000 cats. This huge amount has contributed to helping the overpopulation issue for cats in the UK.

We've also piloted our stray cat project, Cat Watch, in six regions in the UK, with the aim of estimating the number of strays in the UK and working with urban communities to improve cat welfare. The first trial launched in Bulwell in Nottingham in 2016 and thanks to this work, in 2018 there were no homeless kittens born on the streets of Bulwell.

With our campaigns, you can also get help with the cost of having your cat neutered. Our neutering campaigns can be found here: https://www.cats.org.uk/what-we-do/neutering/neutering-campaigns.

To find out more about World Spay Day and the great work that organisations are putting in to neutering cats, visit https://www.cats.org.uk/support-us/events/worldspayday.