A cat from Yorkshire has been reunited with her owner after being found 170 miles away in Suffolk.
Ginger tabby Kitz was discovered among a group of stray and feral cats by Alison Lardner, a volunteer for Cats Protection's Breckland branch.
An elderly lady had been feeding the cats that passed through her Mildenhall garden. The charity was called in to help trap, neuter and return them to help control the population and prevent the spread of disease.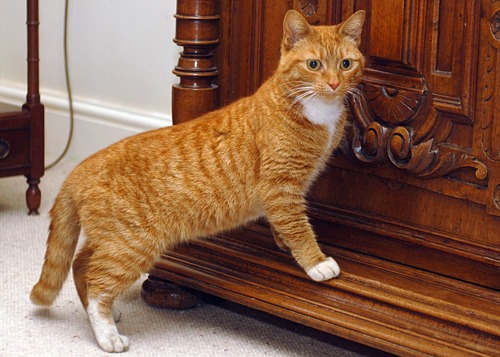 Kitz: safe and well after her journey. Photo: Judith Wakelam
Something about Kitz's healthy appearance and friendly manner convinced Alison that she was not a feral or long-term stray. As the cats were taken to a local vet, Alison continued to wonder about her. "Something made me ring back and ask whether they could check whether the ginger cat had a microchip," she said.
The cat did have a microchip – showing that she was registered to an address in Leeds!
"I was so happy to hear that they'd found her," said Kitz's owner, dance teacher Jason Williams. "But I didn't expect them to say Kitz was in Suffolk – that's a three-hour drive!"
Jason had never before visited Suffolk and has no idea how Kitz ended up in the county.
"She'd gone missing in May," said Jason. "We'd moved to a new area of Leeds and kept her inside for four or five months before we let her out…Then she started going for little walks and we thought that was ok. But one day, she went off and didn't return."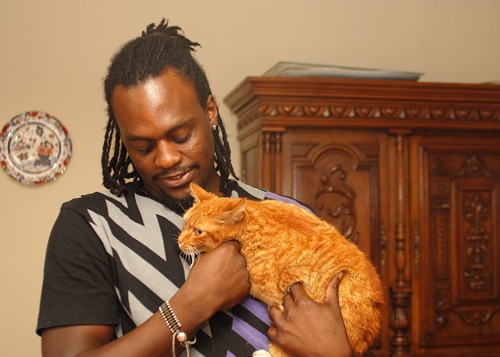 Jason and Kitz were reunited in Suffolk. Photo: Judith Wakelam
Jason and his partner searched everywhere for their cat; putting up posters, phoning veterinary surgeries, pacing the neighbourhood at night while calling her name. "We still had hope that she was all right because she was microchipped."
And Jason was correct – so in August, after getting the call about Kitz, he travelled down to Suffolk to be reunited with her at Alison Lardner's home.
Now back in Leeds, Kitz is doing well. "She constantly wants to go out," said Jason. "I think she's more used to being outside than inside now."
Jason admitted he'd had initial reservations about getting Kitz microchipped but a friend changed his mind. He added: "I'm really glad I got her microchipped."
Find out more about microchipping your cat.