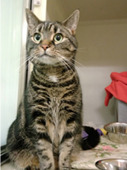 Four year old Elsa was left on her own after her elderly owner sadly passed away.
Fortunately she had registered with the Cat Guardians service which meant that we were notified of her passing and we were able to promptly arrange for Elsa to be brought in to the care of our North London Adoption Centre.
The information provided on the Cat Guardians registration form, which her owner had filled in, meant that our staff and volunteers at the adoption centre had useful information to hand including the types of food Elsa likes to eat, which helped them care for her in the best possible way.
It took Elsa a couple of weeks to get used to shelter life, but once she had settled and come out of her shell, she was moved to our Mitcham Homing Centre where this friendly girl very quickly found her new forever home.